Red Bull Harbour Reach 2013
Australia's James Windsor (18) has been crowned Red Bull Harbour Reach Champion 2013 after a thrilling grand final in Liverpool's iconic Albert Dock.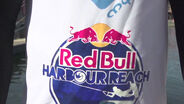 1:57
Red Bull Harbour Reach 2013 highlights
871 Views
The spectacular event attracted an eight thousand-strong crowd as 14 of the world's best wakerboarders, and two British wildcard entries, battled it out across the historic water.
Riders performed a series of gravity-defying stunts on a purpose built wake course designed to test the riders' agility and technical ability to the extreme. The course was designed with Liverpool's industrial heritage in mind and included a jaw-dropping jump over Liverpool's historic Brocklebank Boat.
After a series of action-packed heats and a closely-fought semi-final, the grand finale featured an exciting showdown between Dominic Hernler (21) from Austria, Adam Errington (25) from America, Daniel Grant (16) from Singapore and James Windsor (18) from Australia.
The contest also saw exceptional performances from UK wildcard entries Freddie Carter and Louis Floyd, who both more than held their own amongst the experienced professionals, with Freddie making it through to the semi-final.
Competing in the event for the first time was 16 year old Ryan Peacock, one of the UK's most up and coming young wakeboarders.
The athletes were judged by George Newell, Lee Debuse and Dave Knight from the British Water Ski and Wakeboard Federation, who marked based on two main criteria - the technical performance (height difficulty and control of riding) and composition (flow and style of the run).
Speaking after the event, George Newell, said: "The competition was extremely close with the top three riders standing out amongst the competition from the very beginning. There were only three points between first and second place. In the end it was James' clean riding and stylish tricks and skills, including a grabbed front flip 360, over the Brocklebank Boat that helped him clinch the title."
Red Bull's Harbour Reach champion 2013, James Windsor, said: "There was an amazing level of riding out there today and the competition was really strong. I feel super pumped to win such a prestigious UK competition. The course was amazing - especially the awesome Brocklebank boat jump, which was out of this world."
Wakeboarding is one of the world's fastest growing water sports. Derived from surfing and waterskiing, the wakeboard is towed along at speed by a fixed cable or motorboat enabling the rider to skim along the water launching in to a series of jumps and stunts.
Channels: Extreme.com, Wakeboard