Surf Life: Season 1
Surf Life: Season 1 with Hagan Kelley starts June 9th on Extreme Sports Channel, check the listing to see when you can watch http://extreme.com/tv/guide.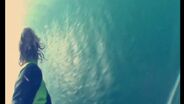 0:37
We've been chatting to Hagan and will be posting his answers on here. First of all, we asked Hagan: How did you get into surfing?
"I was born in Hawaii and raised in a rural part of the Big Island. When I was seven, I moved to the North Shore of Oahu with my mom and little brother. It was the winter of '86-87 and the surf was huge that winter... Waimea Bay was '20 on numerous occasions. The little flat we rented was right across the street from the Bay, and on those big days the rumble of the surf would shake the foundations of our place.
It was exciting to be around this energy, and I was in awe of it all; seeing the best surfers in the world...these young wild guys and girls, so full of energy running along with their boards, jumping into the water at all of these amazing breaks. Pipeline, Waimea, Sunset Beach...all of these famous breaks are mere miles apart on the North Shore. Someone coined it the '7 Mile Miracle'. Yeah, the place is full-on. In the winter, it's the place to be. The best place to be a surfer in the whole world. So I was thrown right into it; just a little sunburnt blonde head white boy.
We were poor, living off government assistance. My mom was a starving artist and she was making ends meet by waiting tables. It didn't matter; we had so much fun living there on the beach. One day, I found an old trashed surfboard in a dumpster along the coast highway; the nose was broken off and it was dinged up pretty bad, but the fins were still glassed in good, and it was a small board, good for a small kid. So I brought it home, fixed it up with duct tape, and showed my mom and brother.
I was overjoyed with my good fortune. I waited for a down day in the swell and paddled out for the first time at the beach across the street; a place called 'rubber duckies', and that was that. I caught a wave, it was fun...and I was hooked."
Channels: Surf