Red Bull Enters the big wave scene - Red Bull Jaws
The rumour mill has been running wild for the past couple of weeks, but Red Bull have finally let slip a few details on their new event; Red Bull Jaws. The event will be invite only and contain 21 of the best big wave surfers for this Eddie-style-paddle-in and will have a waiting period from December 7th, to March 15th.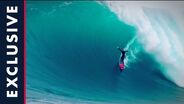 8:58
Positively Kai : 50ft Barrels at JAWS - Episode 17
1.038 Views
A few athletes have been leaking pictures of their invite boxes over social network sites, like Twitter and Instagram. Already confirmed is big wave legend, John John Florence. The idea is that Red Bull will be feeding more information over the coming weeks/months and will develop a microsite, linked from their Red Bull Website. This will reveal the competitors over time and question mark pictures will be replaced by athlete profiles, followed by an official lsit being revealed.
John John Florence's invitational box from his Instagram account
The official statement released by Red Bull says: "Red Bull's panel of big-wave experts selected competitors based on recent performances in waves of comparable magnitude to Jaws; a demonstrated willingness to amplify the level of big wave surfing; and career experience in riding big waves both freely and competitively... This progressive troupe of surfers is charged with forging a path for Red Bull big-wave riders of the future."
It is believed the event will form part of Red Bull Media House's Signature Series and will be aired as a one hour special on NBC, on June 9th. The main feature and drive behind this event focuses on paddling into 'Jaws' as many big wave surfers shun the Jet Ski, making these feits that little more challenging.
Although the prize fund and rider list is unknown at the minute you can expect to be substantial on both accounts. It is also understood that the similar and more established Quiksilver Eddie Aikau event will not be run at the same time.
Channels: Surf