Quiksilver Spring Battle 2012 - Results
Update - Seppe Smits wins the Quiksilver Spring Battle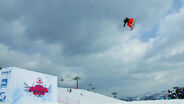 1:16:42
Quiksilver Spring Battle 2012 - Replay
8.728 Views
For the second time in a row, Seppe Smits from Belgium took first place at the Quiksilver Spring Battle live jusging party. Finnish rider Nuutti Niemelä took second with Eric Willett taking third.
You can watch the whole live video judging show again, right here - extreme.com/snowboard/1020368/quiksilver-spring-battle-2012-replay.
---------
Quali / Semi Finals Skate results Quiksilver Spring Battle 2012
For the Quiksilver Spring Battle 2012, some of the world´s best snowboarders gathered in Flauchwinkl, Austria, to compete in the very first 5 Star TTR event of the counting towards the TTR World Snowboard Tour Ranking 2012/2013. In the Qualification round, the riders had two runs to show off on the perfectly shaped 22 metre Big Air kicker. The riding level was really good. With the actual start list it was hardly surprising that riders were stomping double corks and 1260´s in the first round.
The best ten competitors and ahead of everyone Austrian snowboarder Adrian Krainer, advanced to the subsequent Semi Finals. Also local Absolut Park rider Herbert Thaler made it through to the Semi Finals. Together with ten invited riders out of the TTR Top 10 World Tour Ranking, they kept on pushing it to the limits in the Semi Finals.
At Thursday Night´s Pickle-Night – Riders Night with DJ Dragstar supported by GNU the ten semi finalists were announced. They had been fighting hard for to conquer a start spot in the Finals, that will go down on Friday 30th of March. With Markku Koski, Nuutti Niemela and Ville Paumola three Finnish contest machines enter the last round. Previous year´s winner Seppe Smits is still staying in the game, competing against Sven Thorgren (SWE), Eric Willett (USA), Max Buri (SUI) and Jan Necas (CZE) on Friday morning.
The Austrian Michael Macho and local Absolut Park rider Clemens Schattschneider will also try to reach for the trophy in the Top ten finals. On Friday night, the final Quiksilver Spring Battle 2012 podium spots will be determined by video judging at the Video Judging Final Party in the ceremonial hall of Flachau. After the prize giving, FM4/Texta DJ Dan takes the tiller for the FM4 Club Aftershow-Party.
Several winners and three awards at the Skateboarding "Cash for Trick" Sessions On Wednesday, 28th of March 2012, the Quiksilver Spring Battle 2012 showcased finest transition skateboarding at the Chillhouse on 1600 metres above sea level. 26 skateboarders from all over Europe were sending it for the Skate Jam. Most of the time up to five guys rode the miniramp coincidentally, intending to grab for some notes out of the 1500 Euros total prize pot. There were many winners but Andy Scott, Philipp Schuster and Dustin Vonach took home the awards for as "most impressive riders" of the day.
-----
Confirmed Rider List.
So here are the riders confirmed for the Quiksilver Spring Battle 2012. Are you ready? Go.
Seppe Smits (BEL), Marko Grilc (SLO), Ville Paumola (FIN), Clemens Schattschneider (AUT), Mathias Weissenbacher (AUT), Herbert Thaler (AUT), Michael Stanschitz (AUT), Michael Macho (AUT), Mario Wanger (AUT), Eric Willett (USA), Thomas Minichberger (AUT), Florian Heim (AUT), Rudi Kröll (AUT), Philipp Gruber (AUT), Anthony Smits (BEL), Kevin Scherübl (AUT), Marc Swoboda (AUT), Janne Lipsanen (FIN), Ville Uotila (FIN), Marco Donzelli (ITA), Zebbe Landmark (SWE), Sven Thorgren (SWE), Benny Wetscher (AUT), Chris Kröll (AUT), Carlos Gerber (SUI), Patrick Cinca (GER), Tom Klocker (AUT), Adrian Krainer (AUT), Peter König (AUT), Stefan Falkeis (AUT), Joachim Krogstie (NOR), Tor Lundström (SWE), Felix Goergii (GER), Ulrik Badertscher (NOR) and Kevin Backstrom (SWE).
How's that for a list! These fine snowboarders will gather from 28th until 31st of March 2012 at Absolut Park Flachauwinkl to celebrate the 10th anniversary of one Austria's finest snowboard events.
What's even better is that in 2012, the Quiksilver Spring Battle will be upgraded to 5 Star TTR level and on top of the 50.000 US dollar prize purse, the riders can already collect up to 850 valuable TTR Big Air Tour Ranking points. Mega bonus.
You can watch all the action from the competition in our special LIVE streaming from the judging and hot-seat party on Friday 30th March. Under the scrutiny of their peers and the jusging panel, the riders run will be jusged in front of a live audience and winner chosen purely on how stoked everyone gets. Can't say fairer than that.
Channels: Quiksilver Spring Battle 2012, 5-6Star TTR Events, Snowboard