Elias Elhardt wins the 5Star Relentless BIGAIR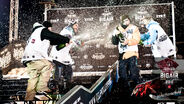 41:28
Relentless Energy Drink BIG AIR presented by Quiksilver - Replay
16.095 Views
With clear domination, and outstanding performance in the superfinal, Elias Elhardt won the 5Star Relentless Big Air Stuttgart presented by quiksilver. Victor de le Rue (FRA) grabbed second place with the best combination of style and tech runs. Third place went to current TTR Big Air World Tour leader Roope Tonteri (FIN).

With wind and snow issues in the morning, the contest had a rocky start. Hurricane Joachim created quite a stir, canceling Friday's training session and causing the organization to seal off the event site. The crew was challenged to prepare ideal conditions for today's competition, but as the winds calmed today the contest took off and presented thousands of spectators some top notch snowboarding.

'It's obviously super cool to win in your home country, the crowd went wild. It's both the first and last contest for me this season, as I will concentrate on filming. Therefore it couldn't have been a better day.' says favorite Elias Elhardt, who won the contest with his Frontside 360 Stalefish - Frontside Boardslide run for style, and a Frontside 900 Melon - 270 Frontside Boardslide on his technical run. With these two runs combined, Elias had the highest score in the super final.

With another 5Star TTR Big Air contest wrapped up, Roope Tonteri is still solidly leading the TTR Big Air World Tour Ranking. German Ethan Morgan moved up into the Big Air second place. There were no changes in the Overall ranking results, Roope Tonteri is still ranked 3rd.

In anticipation of the World Snowboarding Championships from 10-19 february in Oslo, Norway, riders have another few chances in the last days of 2011 to qualify for the Halfpipe and Slopestyle disciplines. 4Star Events US Revolution Tour and the Burton Pro-Test give opportunities in the USA. The O'Neill Evolution (which will be LIVE on extreme.com), from 2-8 January in Davos (SUI) features a 5Star Halfpipe and 6Star Big Air contest. The 6Star Big Air for men and women will count as a Slopestyle result for WSC qualification. The RedBull Nanshan Open in China is the next 5Star Slopestyle opportunity.
Channels: Relentless Energy Drink BIG AIR presented by Quiksilver, 5-6Star TTR Events, Snowboard