5Star Burn River Jump ready to rock Livingo, Italy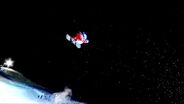 0:31
557 Views
v>  
Italy's premiere snowboard event, the 5Star Burn River Jump, is getting ready for another progressive competition in the beautiful setting of Livigno, Italy. From the 22nd to the 25th of February, 2011, snowboarders from around the world will gather to compete for the titles in slopestyle and big air formats. The event has attracted a great mix of top riders who will be battling it out for a share in the $50 000 USD prize purse and a maximum of 850 Swatch TTR Tour World Ranking points.  The Burn Slopestyle contest finals will run on Thursday, February 24th during the early afternoon and the event will wrap up with the spectacular Burn River Jump on Friday 25th 2011 in downtown Livigno with the big air setup and a course that launches riders right over the Spoel river.

Last Years Success Secures in More Top Riders
The riders will take on the famous Mottolino Swatch Snowpark, in Livigno for the slopestyle part of the competition, and face two creative jib features and four big kickers in a three run, best one counts, format finals.  The top ten riders from slopestyle will receive automatic qualification to the big air format, along with a mix of wild cards and invited riders. The Burn River Jump big air will see the 20 riders narrowed down through a best out of two runs system to 6 super finalists, who will then go head-to-head with two runs each.

This is one of the last two remaining 5Star events on the tour before the TTR Tour champions are crowned at the 6Star Burton US Open in March, and riders are eager to lock themselves in a good ranking position before the final event.  Swiss rider, Christian Haller, who is currently placed World No. 5 in the Swatch TTR World Tour Ranking, recently took the first 6Star title of his career in the halfpipe at the O'Neill Evolution, and will be looking to claim a slopestyle title and improve on his ranking. He will have to beat last year's slopestyle winner who also took third in the Burn River Jump big air format, Breckinridge local, Eric Willett (USA). Eric grabbed third place at the O'Neill Evolution slopestyle competition, and will be looking to repeat his performance from last year at the River Jump, which will improve his World No. 24 ranking position. 
Hot on his heels are many eager rookies such as current Swatch TTR World No. 14, Stale Sandbech from Norway, who is making his first appearance on the Italian competition scene. He is a rookie who has yet to nail a major title, though he has been close with two fourth place finishes in the slopestyle at the Burton US Open and Burton European Open in 2010. German rookie superstar, Ethan Morgan, has been raising his profile and gathering fans at the Air & Style events, taking sixth place in front of the ecstatic crowds at the Nike 6.0 Air & Style Munich and fifth at the Burton European Open slopestyle 2011. Also, Jamie Nicholls, the young gun from the UK is one to watch out and will be aiming to improve on his World No. 47 ranking. Jamie recently competed in the Air & Style Rookie Challenge, placing third and barely missing the invite to the final, and just a week later he took second at the 3Star Nike 6.0 Stairset Battle Tour superfinal. 
INVITED RIDERS
Eric Willett 
Yale Cousino 
Stale Sandbech 
Arthur Longo 
Christian Haller 
Ulrik Badertsche
Aleksander Östreng 
Burgener, Patrick
Wild cards
Giorgio Giancaloni
Marco Grigis
Ethan Morgan 
Jamie Nicholls
Simon Gruber
Sondre Tiller
Korpi, Janne
Men's Top 10 Swatch TTR World Snowboard Rankings as of 12.02.2011 
| | | | | |
| --- | --- | --- | --- | --- |
| Rank | Name | Nation | Results | Points |
| 1 | Piiroinen, Peetu | FIN | 7 | 936.98 |
| 2 | Smits, Seppe | BEL | 7 | 835.63 |
| 3 | Toutant, Sebastien | CAN | 7 | 831.54 |
| 4 | Podladtchikov, Iouri | SUI | 7 | 812.12 |
| 5 | Haller, Christian | SUI | 7 | 800.95 |
| 6 | Malin, Markus | FIN | 7 | 714.24 |
| 7 | McMorris, Mark | CAN | 6 | 698.21 |
| 8 | Korpi, Janne | FIN | 7 | 672.91 |
| 9 | Stock, Werner | AUT | 7 | 644.31 |
| 10 | Holvik, Tore  | NOR | 7 | 641.41 |
| 11 | Farrow, Benji | USA | 7 | 616.46 |
| 12 | Kleivdal, Roger | NOR | 7 | 615.84 |
| 13 | Pietropoli, Manuel | ITA | 7 | 609.53 |
| 14 | Sandbech, Stale  | NOR | 7 | 596.43 |
| 15 | Esser, Brett | USA | 7 | 589.68 |
| 16 | Tonteri, Roope | FIN | 7 | 588.58 |
| 17 | Braaten, Gjermund  | NOR | 7 | 581.08 |
| 18 | Scherrer, Jan | SUI | 7 | 550.59 |
| 19 | Morgan, Ethan Nicholas | GER | 7 | 533.65 |
| 20 | Burgener, Patrick | SUI | 7 | 529.53 |
Channels: Snowboard