Smits and Mittermueller are new TTR Tour leaders after O'Neill Evolution
The 6Star O'Neill Evolution wrapped up in Davos, Switzerland with Sebastien Toutant (CAN) and Jamie Anderson (USA) winning the slopestyle titles and Christian Haller (SUI) and Kelly Clark (USA) taking top honors in halfpipe.  Each of the winners were awarded a piece of the $125 000 USD prize purse and 1000 TTR World Ranking points.  After the first 6Star halfpipe competition of the season and a progressive slopestyle event, Seppe Smits (BEL) took over the Swatch TTR World Tour lead for the men and Silvia Mittermueller (GER) moved into the tour lead for the women.  Although neither of these riders were able to snag a podium spot, both Seppe and Silvia have registered more results than others on tour which boosts their overall score in the World Rankings. 

First 6Star Halfpipe Compeition of the 2010/11 Season
The halfpipe finals went down yesterday under bluebird skies and Davos local, Christian Haller, took the first place spot edging out fellow countryman and heavy-hitter, Iouri Podladtchikov, who had to settle for second place.  Christian took the title title with a run consisting of a backside 540, frontside 1080, Cab 1080 and a frontside 900.  Another Davos local, 16-year old Jan Scherrer, came out of nowhere and made the crowds go wild with a run that earned him third place.  Christian earned enough Swatch TTR World Ranking points to move into the World No. 4 position, just behind Iouri who now sits in World No. 3.  

On the women's side, Kelly Clark (USA) dominated in the halfpipe, definitely set the bar for amplitude and threw down a stylish frontside indy, backside 540, frontside 720 and a Cab 720 to take first place.  This was Kelly's first TTR result for the season that, together with her end-of- season bonus points, shot her straight into TTR World No. 10. Slovenian rider Cilka Sadar, took second place moving her into World No. 5 and Kjersti Ostgaard Buaas (NOR) placed third and remains in World No. 4.

Big Tricks Thrown Down on the Slopestyle Course 
The slopestyle course was built next to the halfpipe at the bottom of Jakobshorn mountain and featured two challenging features for riders to hit.  The first was a kicker with two super poppy take-offs measuring 40-feet and 55-feet and the second was a choice of three rails including an up-flat-down box, a pole jam and a flat-down rail.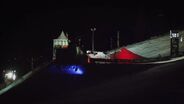 1:42
O'Neill Evolution 2011 - Slopestyle Men Final
6.408 Views
Sebastien Toutant was on fire on the slopestyle course and won the finals with a Cab double cork 1260 to a backside boardslide to underflip out on his final run.  Seb had this to say about his win, "Second 6Star win of the season is so amazing today.  To ride with my good friends and every run we were stepping it up.  On my last run I was outside of the podium and stomped my best Cab 12 ever.  I plan to go to BEO next and give it my best on the TTR Tour."  

Fellow Canadian and winner of the 'man of steel' award, Mark McMorris took second place putting down a Cab double cork 1260 to frontside tailslide to 450 out after a hard slam on his first run, which knocked him unconscious!  
Eric Willet took third place with a switch backside double cork 1260 to backside boardslide to 450 out.

On the women's side, Jamie Anderson (USA) rose above the pack to take the women's slopestyle title with a backside 540 mute to a switch frontside boardslide-to-backside boardslide. Now sitting in the World No. 3 position, Jamie was super excited and had this to say about the day, "Today the event was really fun.  The kicker was perfect and the weather was great.  The progression for women's riding was really high, which was awesome.  After this I'm going to head to the 6Star Burton European Open and then I want to go to all the big TTR events."  Sarka Pancochova was riding well to take second place and reigning TTR Champion, Enni Rukajarvi, was able to grab third place.
Whats Next on the TTR Tour
After some excellent riding this weekend at the O'Neill Evolution, riders will make the short trip over to Laax, Switzerland for the 6Star Burton European Open.  With two more 6Star results available at the Burton European Open, it will be a crucial event for riders looking to improve their ranking positions especially those making a run for the Swatch TTR World Tour Champion.
Channels: O'Neill Evolution 2011, Snowboard