Nike 6.0 Stairset Battle Tour Stop #1 - Castleford, UK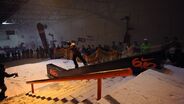 3:12
Nike 6.0 Stairset Battle Tour Stop #1 - Castleford, UK
1.528 Views
The first official stop of the Nike 6.0 Stairset Battle Tour 2010/11 kicked things off at the SNO!zone indoor slope in Castleford, UK on December 10th,  2010. More than 40 of Great Britain's best jibbers took on the Stair Set in a heated battle from start to finish.
 
SNO!zone was the center of attention for the day and the crowd was watching quite a show, including DJ sets and live bands in between contest rounds. The level of tricks - technical standouts such as FS blunts 450 and switch FS blunt 270 down the massive set - had spectators on their feet all through the qualifying jam session.
 
Qualification was over, the lights in the rest of the park went out and all eyes were set on the ten finalists of this official TTR 2-Star event. Here are some of the highlights of the final session:
 
Although he barely missed the top three, young gun Will Smith aka "Fresh Prince of the North" turned heads with a stylish BS 180 sw BS 180 revert. Second place went to Jonny Russel, who punished the kinked ledge with a switch BS lip 270 out among other bangers.
 
After dominating the qualifiers with tech and finesse, Tom Guilmard (FS Blunt 450 out and a perfect landed FS 360 to 50-50 on the Down Rail) also took home first place - and a ticket to the Final of the tour at Air&Style 2011 Munich, Germany on February 12th.
 
The night was not over yet and continued with a party crowd of 300 people and live music after the awards ceremony. Castleford's locals are looking forward to shred the Stairset all year long at SNO!zone.
Channels: Snowboard