SEBASTIEN TOUTANT WINS 6STAR OAKLEY SHAUN WHITE AIR & STYLE IN BEIJING, CHINA
Canadian rider, Sebastien Toutant, was the winner of the Oakley Shaun White Air & Style Beijing snowboard competition in China, a 6Star Swatch TTR event. He walked away with a large share of the $100,000 USD prize purse, the coveted Air & Style Ring of Glory and 1,000 TTR World Ranking points. With his win Toutant advanced in the TTR World Rankings to the World No. 3 position. Another young gun, Seppe Smits (BEL), took the second place podium spot and Elias Elhardt (GER) took the third place position.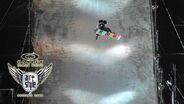 6.700 Views
Snowboarders from around the world made the trip to Beijing for the first major event of the Swatch TTR season, where they put on a spectacular display of top-level riding for a crowd of excited Chinese fans. The riders were pleased with the massive gap jump setup built out of scaffolding, which had riders dropping in from 40 meters above the ground in the Olympic Sports Center Stadium. The Air & Style events feature a unique head-to-head format and Toutant, who won the event with a Cab 1260 double cork, overtook Smits in the final round beating his respectable backside 1260 for second place. Toutant was ecstatic saying, "It's awesome, I think it's by far the best moment of my life, for sure. My first 6Star win, I'm stoked to be in China for the first time. Couldn't have been better than to win the event today!" Elhardt was awarded third place for his backside 1080 double cork.
With 6Star World Ranking points available, there was some major movement in the Swatch TTR Top 20. Because of his healthy lead coming into this event with seven results already posted, Norwegian rider, Gjermund Braaten, maintains his World No. 1 position, but he has some competition hot on his heels. Not only does Braaten have major threat, Sebastien Toutant, not far behind him in World No. 2, but Seppe Smits was able to maintain his World No. 2 spot with his second place finish at the Air & Style Beijing. Other notable changes in the ranking are Norwegian up and comer, Stale Sandbech, moving into World No. 4, Mikkel Bang (NOR) is now World No. 5 and Marko Grilc (SLO) is now sitting in World No. 6. American riders Scotty Lago and Eric Willet gained some momentum in the World Rankings with Lago in World No. 15 and Willet in World No. 12.
With the Air & Style Beijing wrapped up, all eyes will shift to the 6Star O'Neill Evolution taking place January 2nd to 8th 2011 in Davos, Switzerland which will be followed by the 6Star Burton European Open scheduled for January 8th to 15th.
Channels: Oakley And Shaun White Present Air & Style Beijing 2010, Snowboard