Antiz - Pure Acid Video Tour 2011
Coming to a shop/screen/hovel near you is the latest video offering from Antiz, The OAF - The Occasional Antiz Flashback.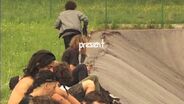 1:24
643 Views
Featuring all the people you'd expect, plus some others, if Z Movie was anyhting to go by (and it is), then this film won't disappoint.
Check the flyer to see tour dates through out Europe.
Channels: Skateboard