James Kingston dreaming of scaling even bigger heights
The professional adventuer has plans to climb even higher as his rapid rise to fame continues.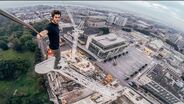 2:00
Climbing a crane to get the perfect selfie
943 Views
James Kingston has shocked the world by climbing to the top of countless bridges, buildings and cranes without any safety equipment, to hang off the top and take selfies.
If you've watched his vertigo-inducing POV videos online you could be forgiven for assuming that the so-called 'urban explorer' is fearless.
But, as he travels around Europe promoting his film Don't Look Down in front of sell-out crowds on the European Outdoor Film Tour, he admits there is still one thing that scares him.
"Getting up on stage every day is what scares me now," he said. "So there's always something.
"The reaction to the film has been crazy. We know it has been seen a lot but we never got to watch the human reactions until now, and all the laughs and gasps."
The Kingdom Tower in Dubai will have the biggest crane ever made at over 1km. It could be good to climb.
Millions of people have gasped at the videos on Kingston's YouTube channel since he first decided to film himself climbing cranes. His journey started years ago with an interest in Parkour but after mastering the sport he started looking for a different challenge.
A desire to conquer his fear of heights sent him up his first crane and there he found something more than the sport of urban freerunning that he started as a teen – and he hasn't looked back since.
"It's more art for me," he explained. "The sport side is that it's physical but the videos are all art that I create and like to share with people.
"I got to the point with Parkour where I had learned everything," he said. "I wanted to do what was next.
"To get better you need to face your fears but there wasn't much I was scared of. I thought about it and it was heights. To overcome that was why I started climbing."
Kingston's documentary has appeared on Channel 4, he has been interviewed on Sky News and ITV and his videos and stunts have caught the attention of nearly all the national newspapers in the UK.
But despite his rapid rise to fame in the action sports world and beyond, Kingston has no intention of coming back down to earth anytime soon.
"I never imagined I would be where I am now. It's amazing," he added.
"I get to do what I love and get paid, which is what we all need to be doing. Doing what you want and following your dreams."
I get to do what I love and get paid, which is what we all need to be doing
Now, the 23-year-old is dreaming even bigger. After a recent exploration of the skies above Bangalore, India, Kingston is planning a trip to the high-rise ridden desert of Dubai.
Slightly further west, in Saudi Arabia, lies his biggest test yet.
"They are building the Kingdom Tower in Saudi Arabia which could be good to climb in a year or two," he added. "It will have the biggest crane ever made at over 1km.
"I want to go to Dubai and climb because there is so much there, and Hong Kong because that place is amazing. My climbs are something I just go for, it is never planned."
Kingston is hoping to get to Dubai, the City of Gold, before Christmas, so keep an eye on his YouTube channel in the New Year. But until then he will have to continue surviving the smaller but much more daunting climb onto stages across the UK.
To check out the dates of the European Outdoor Film Tour, watch trailers and get tickets, click here.
And for more information on James Kingston check out his website here.
Channels: Outdoor