Red Bull Cliff Diving - Blake Aldridge interview
Ever wondered what it's like to be a cliff diver and what taking part in the Red Bull cliff diving series takes? Well here's your chance to find out as we talked Blake Alridge. He was in the Olympics! -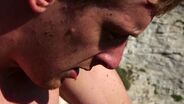 2:07
Red Bull Cliff Diving - Road to the UK
265 Views
How are you feeling for the upcoming competition in France, nervous? Excited?
I can't wait – I'm not nervous at all. I'll be nervous when I'm standing on the platform! You don't have to deal with nerves for the competition; it's all saved for the actual dive. I used to have to try and make myself nervous for normal diving, as I perform better on nerves.
Who's tipped for the hot spot this year, and who do you think will be your biggest competition?
Gary! Of course it's Gary. Orlando Duque, Artem Silchenko and David Cotari will be the ones in the mix. In previous years, its only been one or two people so it's great that there are more this year – it will make competition better and more exciting for each athlete involved; everyone needs to be pushed. There's a head to head format this year, so people will crumble under pressure, miss-dive and others will perform and thrive better under the pressure. There are more divers doing harder dives than ever before – the level has risen substantially from last year. Everyone knows what dives they've got up their sleeves, but it's going to be interesting to see who is going to be pushing at what time, and do it well. Last year, every competition I went to I learnt new dives, as I felt I was not where I wanted to be yet. The dives I've got are the second or third degrees of difficulty – but I want to have the hardest.
Was it tough qualifying this time round?
I was extremely worried. There were only four spots up for grabs, and there were four or five divers from last year's tour. In Yalta, I knew I didn't have the right control. I was worried that I was going to be out of control and potentially not qualify. There is that big worry as I was in the unknown, having been a wildcard last year. I came out on top after the first day and I was over the moon – then I got into the second day and I was just trying to do enough to get one of those top four spots. David overtook me, but I was so relieved to have got into the top four – I just felt pure relief. I've got seven stops to look forward to now!
You have more experience than the other divers in the series, is this going to work to your advantage?
Totally, I think the background I've had within diving can only help - it's been a massive learning curve already and there's a lot more to learn. But the way I'm training now - my mentality, every aspect in what I'm doing now, platform, air, entry - is right for cliff diving. I've had some brilliant advice from people around me who have helped me to adapt so quickly.
How was it adapting to the much higher drop when you moved into cliff diving?
I'm still going through it. Everything feels visually really tough - everything is so far away as it's so much higher. It feels like slow motion; my brain is used to seeing everything sped up as it is in normal diving, and you've got much longer to see and feel everything. You've also got wind and rain to deal with, which makes you have to adapt and keeps you on your toes.
How would you describe your relationship with Gary Hunt?
I went to school with Gary and we've been mates for years – I used to hold hands with his sister! He left school and moved to Leeds, and meanwhile I was winning medals in diving. Then I went up to a competition in Leeds when I was 12, and there was Gary, also taking part. He moved down to Southampton and we were training and living together, then he gave up diving and moved into cliff diving. I carried on, made it into the Olympics, then in 2010 I started competing in the Red Bull Cliff Diving World Series when I got the wildcard. He's such a good guy, and we've got a lot of time for each other. I'm a rookie and he's been doing it for a while - what better guy to get advice from. I'm sure Gary wants to beat me, and I want to beat Gary, but we are mates at the end of the day.
What's the competitive atmosphere like throughout a tournament, do you feel like one big team?
There is that competitive nature inside that means you want to beat each other, and when it actually comes to it, it's just you standing up there on the platform. But at the end of the competition everyone is just happy that we're all OK. That makes it feel like a team sport – everyone is putting their neck on the line and risking everything and there's a mutual respect for that.
How much do you have to train? What specific kind of training do you do?
I've had an ongoing problem with my right quad since Yalta, from the impact of the water. I've been doing loads of weights and jump squats to overcome it. I was used to my torso taking all of the impact, whereas now it's my legs that are taking all the impact.
Where's your favourite place in the world to dive?
Australia was great. I used to live there in 1999 and I went back and trained there just before the Sydney event - it was nice to be back in that environment I was when I was 17. I had only done this dive twice and I scored 9 in the competition - to realise that I could learn something and do it well so quickly was a real confidence boost.
How do you see cliff diving evolving over the next few years?
Within the next couple of years it can't get much harder than what Gary is doing; there is no more time to put another twist in the dive. I've got a few dives up my sleeve – it will be interesting to see if anyone else the same ideas. It shouldn't go any higher than 28 meters – it's exciting and dangerous enough as it is. If you keep moving the heights, people don't have the opportunity to get used to it, which you need to do in order to push the boundaries. You already have to cope with being in differing locations as it is, and you need to build up a certain routine and an understanding. Gary has pushed the bar to a limit during the Red Bull Cliff Diving series that no one is close to at the moment. Everyone else needs to catch up with Gary before anything else. There's talk that they might make it into an Olympic sport – that would be exciting.
Channels: Outdoor