Desalle and Roczen conquer the last Grand Prix of the season
The 2010 FIM Motocross World Championship arrived to its end in Fermo with Clement Desalle and Ken Roczen being the overall winners. Antonio Cairoli and Marvin Musquin had an unfortunate weekend suffering both two small injuries which prevented them from finishing the season on top of the rostrum.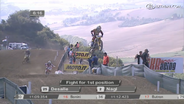 MX GP of Italy 2010 LIVE MX1 Race 2 - REPLAY
19.245 Views
Clement Desalle finished his season with an unexpected overall victory for him as he landed in Fermo still injured from the heavy crashes in Lierop. His team-mate Steve Ramon achieved his first heat victory of the season and finished second overall. Sebastian Pourcel got his best result of the season in Fermo being on the third step of the rostrum.

In MX2 Ken Roczen brought his Suzuki machine at the top of the podium and Gautier Paulin was second overall after obtaining his maiden GP victory of the season last weekend in Lierop. Arnaud Tonus achieved his best result in his career finishing third overall in Fermo.

Pascal Rauchenecker clinched the overall victory winning the two heats of the last round of the UEM EMX125 Championship. Arnaud Aubin was second and Maxime Desprey completed the top three.


MX1

Rockstar Teka Suzuki World MX1's Desalle was not really lucky in the last Grand Prix's of the season but he could not have a better ending of the season after achieving the overall victory in Fermo. On Saturday Desalle had terrible pain on his right leg due to the crash he suffered in Lierop and winning the Italian Grand Prix was not really in his mind. However, the Belgian managed to finish fifth in the first heat and got full confidence on himself for race two and clinched the victory. With such result Desalle went up to the top of podium for the third time this season and also celebrated his second final position in the FIM MX1 World Championship.

Other Rockstar Teka Suzuki World MX1 rider Ramon was on the second step of the podium after obtaining his maiden heat victory of the season in race one and being fourth in the second heat. Ramon expressed his satisfaction for his overall result but he was a bit disappointed for not being able to achieve the GP victory in Fermo. Ramon finished fifth in the Championship seven points behind Nagl.

Kawasaki Racing Team's Pourcel was back on the podium for the first time this season after not an easy year for the French. Pourcel was third and second during the races and showed that his confidence is back and he is ready to be part again of Kawasaki Racing Team in the 2011 season.

Boog rode again with the front riders after his knee injury he suffered in Lommel and obtained an overall fourth position. Kawasaki Racing Team's Boog did an excellent race one, and after a good start he managed to follow Ramon's and Desalle's rhythm and he finally ended second of the race. In the second heat he could just finish fifth but the French was really happy with his performance this weekend and he is now looking forward to the Nations.

Red Bull KTM Factory Racing MX1's Nagl was fifth overall in Fermo after his second position in the last Grand Prix in Lierop. The German was just sixth in the first heat and he managed to ride most of race two in the second position until Pourcel passed him with just three laps to go. The German finished fourth of the FIM MX1 World Championship just four points behind Philippaerts.

Philippaerts could not achieve his goal of winning at home and he was just sixth in the Italian GP. The Italian did not have a good start but managed to go from eight to fifth in the first laps of race one. However, he lost his battle with Pourcel when fighting for the fourth position and after crashing he could just finish seventh. In the second race Philippaerts finished sixth with a left knee injury because his foot slipped off the footpeg in a downhill with the Italian suffering all the way through until the chequered flag. Philippaerts will go straight to his doctor tomorrow to have his knee checked and to make sure he will be fit for the Red Bull FIM Motocross of Nations. However, with this weekend's result, Philippaerts finished third in the Championship 35 points behind Desalle.

Coppins raced his last Grand Prix in Fermo and achieved a solid seventh position for twelfth in the Champ¡onship.

Gonçalves had really good starts in both races but he could not keep the rhythm of his rivals and was just ninth and eleventh in the heats.

Davide Guarneri finished eighth in the first race but he had to give his best in the second heat as he crashed in the start and climbed up to the eleventh position.

Aranda was back to racing in Fermo and obtained a solid tenth overall position.

Barragán was fifth in the first race but he did not finish the second heat as he crashed at the very beginning when he was riding in the seventh position. His second moto crash involved also MX3 World Champion Campano, who left the track in an ambulance as he was diagnosed a head concussion.

Brazilian Balbi finished sixteenth after not a really good first race, but he managed to finish 13th in the second heat.

2010 FIM MX1 World Champion Cairoli could not delight his Italian fans with the overall victory as he had to stop racing in the first race after twisting his left ankle while landing in a slippery area of the track. The Italian decided not to race the second heat in order not to risk too much and try to be 100% ready for the Red Bull FIM Motocross of Nations.

Aubin did an excellent qualifying race finishing third after Pourcel and Philippaerts, but today he suffered a heavy crash and broke his coccyx.


MX1 Race 1 top ten: 1. Steve Ramon (BEL, Suzuki), 39:33.144; ; 2. Xavier Boog (FRA, Kawasaki), +0:02.174; 3. Sebastien Pourcel (FRA, Kawasaki), +0:04.173; 4. Clement Desalle (BEL, Suzuki), +0:05.958; 5. Jonathan Barragan (ESP, Kawasaki), +0:07.902; 6. Maximilian Nagl (GER, KTM), +0:11.073; 7. David Philippaerts (ITA, Yamaha), +0:19.516; 8. Davide Guarneri (ITA, Honda), +0:30.589; 9. Rui Goncalves (POR, KTM), +0:35.890; 10. Joshua Coppins (NZL, Aprilia), +0:49.316;

MX1 Race 2 top ten: 1. Clement Desalle (BEL, Suzuki), 40:19.772; ; 2. Sebastien Pourcel (FRA, Kawasaki), +0:04.419; 3. Maximilian Nagl (GER, KTM), +0:06.278; 4. Steve Ramon (BEL, Suzuki), +0:18.402; 5. Xavier Boog (FRA, Kawasaki), +0:29.992; 6. David Philippaerts (ITA, Yamaha), +0:35.386; 7. Joshua Coppins (NZL, Aprilia), +0:37.210; 8. Rui Goncalves (POR, KTM), +0:38.050; 9. Manuel Monni (ITA, Yamaha), +1:00.199; 10. Gregory Aranda (FRA, Kawasaki), +1:07.402;

MX1 Overall top ten: 1. Clement Desalle (BEL, Suzuki), 43 points; 2. Steve Ramon (BEL, Suzuki), 43 p.; 3. Sebastien Pourcel (FRA, Kawasaki), 42 p.; 4. Xavier Boog (FRA, Kawasaki), 38 p.; 5. Maximilian Nagl (GER, KTM), 35 p.; 6. David Philippaerts (ITA, Yamaha), 29 p.; 7. Joshua Coppins (NZL, Aprilia), 25 p.; 8. Rui Goncalves (POR, KTM), 25 p.; 9. Davide Guarneri (ITA, Honda), 23 p.; 10. Gregory Aranda (FRA, Kawasaki), 21 p.;

MX1 Championship top ten: 1. Antonio Cairoli (ITA, KTM), 625 points; 2. Clement Desalle (BEL, Suzuki), 537 p.; 3. David Philippaerts (ITA, Yamaha), 502 p.; 4. Maximilian Nagl (GER, KTM), 498 p.; 5. Steve Ramon (BEL, Suzuki), 491 p.; 6. Tanel Leok (EST, Honda), 356 p.; 7. Xavier Boog (FRA, Kawasaki), 337 p.; 8. Ken de Dycker (BEL, Yamaha), 331 p.; 9. Davide Guarneri (ITA, Honda), 290 p.; 10. Evgeny Bobryshev (RUS, Honda), 270 p.;

MX1 Manufacturers: 1. KTM, 692 points; 2. Suzuki, 625 p.; 3. Yamaha, 556 p.; 4. Honda, 483 p.; 5. Kawasaki, 420 p.; 6. Aprilia, 264 p.; 7. TM, 145 p.; 8. CCM, 39 p.; 9. Husqvarna, 4 p.;

MX2

Starting from pole for the fifth time in 2010, Teka Suzuki Europe World MX2's Roczen made the most of it as he stormed to two moto wins and took the overall win of this last round of 2010. The German rode a perfect first moto after getting rid of holeshotter Musquin, but the duo battled for the first half of moto two adding drama to this final round of the Championship. Eventually Roczen moved past while Musquin crashed and pulled out of the race, leaving the German alone in first place. At the end of the day KTM announced that Roczen will ride for them in 2011.

Second on the podium was Yamaha Monster Energy Motocross' Paulin who managed to remain on the rostrum after last weekend's win in Lierop. The French admitted he could not perform at his best on the Italian hard pack and reckoned he would need more bike time in these conditions if he wants to keep up the pace of riders such as Roczen and Musquin. Though a fourth and a third place were worth a podium for Paulin, breaking into the top ten of the Championship.

Other Teka Suzuki Europe World MX2 rider Tonus made it to his first career podium this weekend in Italy. The youngster from Switzerland was aiming at the top three in race one but a tough move of Paulin dropped him down to fifth while in the second race Tonus recovered from the bottom of the top ten to an eventual fourth, completing on the overall podium.

Kawasaki CLS' Frossard managed to finish fourth overall courtesy of his second place from the last moto, making up for an 11th place in race one due to a crash in the first lap-Frossard rejoined the race from the back of the pack.
Completing the top five was Nestaan JM Racing KTM's Roelants, who could also move up to fifth in the Championship. The Belgian missed the fourth place in the points standings by just one point, with Osborne finishing fourth eventually. Herlings instead dropped down to sixth ahead of Tonus.

Leib was a surprising seventh in Fermo, which is the best result of his rookie season in the FIM Motocross World Championship.

World MX2 Champion Musquin instead dropped down to tenth after he was forced to pull out of moto two. The French crashed and hurt his arm, leaving the race track in pain with a big bruise on his arm.
Lupino narrowly missed out on the top ten as he finished 11th overall, still being the highest placed Italian in the category.

Van Horebeek was an unlucky twelfth, with the Belgian taking third in heat one but retiring from moto two after a crash.


MX2 Race 1 top ten: 1. Ken Roczen (GER, Suzuki), 39:20.219; ; 2. Marvin Musquin (FRA, KTM), +0:17.333; 3. Jeremy van Horebeek (BEL, Kawasaki), +0:32.877; 4. Gautier Paulin (FRA, Yamaha), +0:41.170; 5. Arnaud Tonus (SUI, Suzuki), +0:47.958; 6. Joel Roelants (BEL, KTM), +0:49.915; 7. Michael Leib (USA, Kawasaki), +0:58.400; 8. Zach Osborne (USA, Yamaha), +1:09.666; 9. Christophe Charlier (FRA, Yamaha), +1:15.678; 10. Jake Nicholls (GBR, KTM), +1:19.436;

MX2 Race 2 top ten: 1. Ken Roczen (GER, Suzuki), 40:39.797; ; 2. Steven Frossard (FRA, Kawasaki), +0:24.745; 3. Gautier Paulin (FRA, Yamaha), +0:27.697; 4. Arnaud Tonus (SUI, Suzuki), +0:29.889; 5. Zach Osborne (USA, Yamaha), +0:38.242; 6. Joel Roelants (BEL, KTM), +0:43.495; 7. Michael Leib (USA, Kawasaki), +0:55.683; 8. Jake Nicholls (GBR, KTM), +1:02.084; 9. Alessandro Lupino (ITA, Yamaha), +1:05.998; 10. Christophe Charlier (FRA, Yamaha), +1:08.307;

MX2 Overall top ten: 1. Ken Roczen (GER, Suzuki), 50 points; 2. Gautier Paulin (FRA, Yamaha), 38 p.; 3. Arnaud Tonus (SUI, Suzuki), 34 p.; 4. Steven Frossard (FRA, Kawasaki), 32 p.; 5. Joel Roelants (BEL, KTM), 30 p.; 6. Zach Osborne (USA, Yamaha), 29 p.; 7. Michael Leib (USA, Kawasaki), 28 p.; 8. Jake Nicholls (GBR, KTM), 24 p.; 9. Christophe Charlier (FRA, Yamaha), 23 p.; 10. Marvin Musquin (FRA, KTM), 22 p.;

MX2 Championship top ten: 1. Marvin Musquin (FRA, KTM), 635 points; 2. Ken Roczen (GER, Suzuki), 574 p.; 3. Steven Frossard (FRA, Kawasaki), 478 p.; 4. Zach Osborne (USA, Yamaha), 397 p.; 5. Joel Roelants (BEL, KTM), 396 p.; 6. Jeffrey Herlings (NED, KTM), 391 p.; 7. Arnaud Tonus (SUI, Suzuki), 390 p.; 8. Shaun Simpson (GBR, KTM), 367 p.; 9. Jeremy van Horebeek (BEL, Kawasaki), 365 p.; 10. Gautier Paulin (FRA, Yamaha), 336 p.;

MX2 Manufacturers: 1. KTM, 701 points; 2. Suzuki, 613 p.; 3. Yamaha, 533 p.; 4. Kawasaki, 525 p.; 5. Honda, 133 p.; 6. TM, 48 p.; 
Channels: MX