Filip Polc wins City Downhill World Tour in Bratislava
Filip Polc was delighted to complete a hat-trick of wins on the City Downhill World Tour with a narrow victory in his hometown Bratislava, Slovakia on Saturday - maintaining his 100% record in 2014.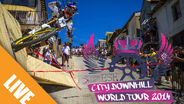 City Downhill World Tour 2014: Bratislava Replay
22.130 Views
The urban downhill specialist beat German rider Johannes Fischbach to the top spot by just 0.40 seconds with Matt Walker of New Zealand only 0.17 further behind.
After winning Round 1 in Santos, Brazil and Round 2 in Valparaiso, Chile, Polc now has an unassailable lead in the overall standings with one race remaining.
But it didn't come easy for the 32-year-old with the winning time on the short, fast and technically challenging Bratislava track just 56.42 seconds.
And, with little room for error, Polc admitted any one of the top riders could have stolen victory in a remarkably tight contest.
"I'm super stoked," he said. "Anyone could have won because it's all about the small mistakes and the flow. I think everyone was very tight but on the second part I was a little bit faster.
"I was thinking about last year when I came fifth and it was a super tight race and after qualifying, even though I won, I was only winning by 0.12.
"The top five were within half a second. But that's City Downhill, it's tight and it was the same in Santos."
Following plenty of morning practice runs to allow riders to get used to the high level of difficulty on course Polc set the pace in qualifying with a time of 58.05 seconds.
However, both Walker and Fischbach sat just 0.12 seconds behind the Slovakian rider and most of the field reduced their times significantly in the final.
Bernard Kerr was the first of the top riders to feel the full force of the tough track. The Briton blew a tire on the final feature in practice and broke his back wheel on the same drop, despite being over a second up, in his final run.
Downhill World Cup rider Andrew Neethling took the hotseat soon after and managed to see off 4X World Champion Tomas Slavik by 0.18 - but the Czech rider still managed to walk away with 500euros for clocking the fastest speed of the day at 55.9km/h.
Neething was then dislodged by 2013 winner Marcelo Gutierrez but the Columbian rider wasn't in the lead for long with Fischbach coming in 0.75 faster.
Walker couldn't match the German's time and Polc was down by 0.22 seconds at the first split but two huge airs on the final two features gave the 32-year-old victory.
And despite his dominance in the first three races Polc insists the real final will be the fourth round in Mexico because of the longer and even crazier Taxco track.
Mexico is a crazy destination and I'm pleased we are hosting the final round there - Filip Polc
"My split wasn't that good but I knew I could do the stairs well," he added. "I hit them pretty nice with good speed and the last jump got me extra time and I gave everything in the final sprint."
"Mexico is a crazy destination and I'm really pleased we are going to host the final round there. It will be a different story. It's a different track and much longer at more than two minutes.
"I think it's going to be the real final because it's a hard track and we have invited many good riders, even more than to this."
There is a long break on the City Downhill World Tour now before the final round in Taxco, Mexico takes place on October 24th and 25th.
To watch our full replay of the City Downhill World Tour in Bratislava click here.
Full Results 1. Filip Polc (SVK) 56.42 54,27km/h 2. Johannes Fischbach (GER) 56.82 55km/h 3. Matt Walker (NZL) 56.99 54,24km/h 4. Marcelo Gutierrez (COL) 57.57 55,15km/h 5. Andrew Neethling (JAR) 57.99 54,90km/h 6. Tomáš Slavík (CZE) 58.17 55,98km/h 7. David Macmillan (AUS) 58.58 51,32km/h 8. Martin Knapec (SVK) 59.63 52,39km/h 9. Edward Masters (NZL) 59.73 53,81km/h 10. Matej Vitko (SVK) 59.76 55,11km/h 11. Reece Potter (NZL) 1:01.09 52,63km/h 12. Rupert Chapman (NZL) 1:02.58 50,56km/h 13. Tom Matthews (NZL)1:02.62 51,79km/h 14. Nick McConachie (NZL) 1:04.66 50,99km/h 15. Eliot Jackson (USA) 1:07.13 49,98km/h 16. Bernard Kerr (GBR) 1:12.32 51,20km/h 17. Lordanis Karamichailidis (GRE) 1:16.10 40,86km/h Top speed - Tomáš Slavík (CZE) 55,98km/h
Channels: Mountain Bike