Josh Bryceland: World Cup Downhill season is 'bonkers'
'Ratboy' talks Rumble in the Jungle, learning from a master and his climb to the top of the downhill world.
After his second place at a wet and muddy round 2 of the UCI World Cup Downhill in Cairns, Josh Bryceland has his sights firmly set on moving up to the top step.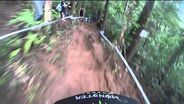 4:52
Josh Bryceland - Cairns World Cup POV
899 Views
The 24-year-old former Junior World Champion and Junior World Cup Champion has now landed 5 podiums in just over two seasons but is yet to experience the dizzy heights of the winner's platform. However, it seems to be only a matter of time before Bryceland reaches the top.
And in a World Cup season where anything can, and probably will, happen the British rider tells Extreme.com why it's already been one of the most 'bonkers' years ever.
Josh equalled his best ever World Cup finish with second place in Cairns
Q. Congratulations on your second place in Cairns. How pleased were you with that result – especially in such difficult conditions?
"It was a tough week for me to be honest, the climate and time zone really got to me and the track was so technical. In the final I played it safe and it paid off so I was pleased with my maturity!"
Q. It was wet, muddy and over 50% of riders fell during their finals run. How did you approach the track and was it more about getting down alive than speed!?
"Yeah, totally. My plan originally was to be the guy who stayed upright because I knew after qualifying how much carnage there would be in the final. From the first couple of turns I found a really comfortable pace and was able to nail all the dangerous sections smoothly, and try and pedal hard where necessary.
"It's tricky to hold back a little but it was one of those races where it was so easy to crash when pushing hard, especially since the most technical sections were in the bottom half after two hard pedal sections, so you were entering them fatigued."
The field is bloody stacked this year so it would mean a lot to stand on that top step!
Q. You were unlucky not to finish higher in the first world cup in Pietermaritzburg, after a great qualifying run. How much confidence did that give you going into the Cairns World Cup?
"Yeah man, I was buzzing leaving South Africa. It was unfortunate losing points in the final due to damaging my bike but then Cairns really mixed the overall up too so I'm now in 5th overall after coming 43rd in the final at round one. It's bonkers! I'm loving it!"
Q. Surely it won't be long until we see you at the top of the podium. What would it mean to you to win your first elite World Cup, and can you do it this season?
"I'm so hungry for a win! The field is bloody stacked this year so it would mean a lot to stand on that top step! I think if the conditions are right there's no reason why I can't do it."
Q. It's been a tough start to the season with two difficult tracks. What do you expect from the race in Fort William and is it a track that will suit you?
"It's another gnarly track. The first two have been so diverse and round three will be no exception. Fort Bill has been good to me in the past and riding in front of the home crowd just makes it that bit more special!"
Round 2 of the World Cup was one of the wettest in recent memory
Q. First World Cup win? World Champs? Increasing your World Ranking? What are your goals for the season and what do you think you can achieve in 2014?
"I just want to keep doing what I'm doing! I prepared well for this season, which has really helped. If I can knock out top 5 qualifying and race runs I'll be a happy rat!
Q. Last season was a bit of a two-horse race between Stevie Smith and Gee Atherton. How much more competitive is it this year, with riders returning from injury, guys like Aaron Gwin back in form and riders like yourself pushing for more and more podiums?
"It's been a shame Stevie Smith has been absent from the first two rounds but I know he will be back with a vengeance! The level is no doubt high this year and a lot of the younger riders like [Loic] Bruni and [Neko] Mulally have really found their feet.
"The talent runs so deep in the field. There seems to be 15 or 20 guys who could get a podium on their best day, it's insane."

Josh learned his trade from three-time World Cup Champion and downhill legend Steve Peat
Q. You shared the podium with Steve Peat for a while on Saturday in Cairns. How important has his experience been in helping you improve over the last couple of seasons?
"Priceless, the guy's an inspiration. He rolled down the track twice before qualifying in Cairns and even with a back injury he qualified top 20 easily... hero! The experience he has is unparalleled."
Q. This might already be common knowledge, but where does the nickname RatBoy come from?
A combination of Steve [Peat] and Sam Dale being proper top guys....!
Josh celebrating second place on the podium in Carins - how long will it be before we see him on top?
Channels: Mountain Bike