Martin Soderstrom wins Colorado Freeride Festival
Munich, July 29th 2013 – It seems like the Swedish slopestyle athlete Martin Soderstrom is feeling pretty comfortable across the pond. At the first North American FMB World Tour Gold event: Colorado Freeride Festival, the giant 'trickster' has won his first title in the 2013 circuit. Fellow Swede and friend, Anton Thelander accompanied him on the podium with a great third place result.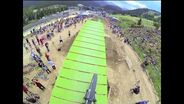 1:06
1st place run Colorado Freeride Festival 2013
5.656 Views
After a series of thrilling European events, the FMB World Tour has crossed over to North America, where the remaining big events will take place. First stop: Colorado, last weekend. The Colorado Freeride Festival has always been a real FMB World Tour classic event. This year was no different, the course flowed, the riders sent it and the crowd loved every minute of the world-class mountain bike action! Martin Soderstrom capitalized on these ideal conditions and laid down a winning run.
The Specialized rider had no problems qualifying for the finals during qualification on Saturday and easily made the cut after landing in fifth place. However, on Sunday, Martin was determined to step up his game and show off a combination of his signature tricks, which when synchronized into a single run, placed him at the top of the podium with a final score of 94.6pts. Martin's closest rival on the day was German rider Peter Henke, who finished in second - just 0.2 points ahead of Martin's protégé, Anton Thelander who was the last rider to make it onto the podium. In fact the rasoulution team riders made it a top five hat-trick as Thomas Genon, also a rasoulution team athlete finished in fourth place, only 0.1 shy of Thelander.
But back to topic: Often referred to as "Mr. Tailwhip", Soderstrom is known for his technical skills and it is common knowledge that his signature tricks are tailwhip variations. Entering the season with a deadly triple whip in the bag, he definitely has the scope to lead for the remainder of the season. At Colorado Martin put together a diversified and technical clean run. After a 360 table from the drop, he landed a 270-barspin over the hip. Then back flipped onto the step-up and safely tailwhipped back down. On the following obstacle he pulled a 360-table, followed by a double tailwhip at the next booter and a 360barspin off the log ride. On the final Specialized booter Martin nailed a spectacular 360 double tailwhip.
After the contest, Martin commented on his victory via his Facebook fan page: "Finally back on top! Can't believe where the riding level is going at the moment!"
True story, taking into account that Peter Henke who placed second was only 0.3 points ahead of fourth placed Thomas Genon from Belgium.
You can see for yourself how far mountain bike slopestyle has evolved this season: the entire webcast of the Colorado Freeride Festival slopestyle finals is available here
Channels: Mountain Bike