Sam Hill will ride in the BDS 2013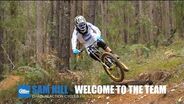 5:45
Sam Hill - Welcome to the Team
15.971 Views
Sam Hill is a rider that everyone loves to watch ride; known for his ultra fast, attacking style, Sam is regarded as one of the all time greats and it's awesome to have him come race at Combe Sydenham.
If you're starting to panic about not being able to make it to the race itself then do not worry as extreme.com will be bringing you LIVE coverage from every round of the BDS this season and what a way to start it off.
Join us LIVE on April 14th at 14:00 GMT for Round 1 of the BDS in Combe Syndenham.
Channels: BDS 2013 Round 1 Combe Sydenham, British Downhill Series 2013, Mountain Bike