Jamie Ledson & Friends: Lewis Jones - Whistler River Jumps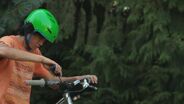 2:55
3.357 Views
A good friend of Extreme.com, jamie Ledson, recently travelled over the pond for a few months this summer to ride bikes and make films, two things which he is exceptionally good at especially seeing as he is only 19 years old!
As summer is now a thing of the past for the Northern hemisphere and we're now featuring more snowsports this time of the year we thought it only fair to inspire you to start planning your 2013 trips and keep that fire burning until the sun replaces the snow and rain.
Over the next couple of weeks Jamie will be dropping various edits from his travels around Canada and America. His next one should feature his time in whistler, which we are defintiely lookign forward to and we'll also be asking him a few questions on how, why and where he went so he can share his views with you in the hope to inspire you.
But until then he's just dropped his second edit from his trip. This time he is with Canadian dirt jumper, Lewis Jones.
Here's what Jamie had to say:
"Whistler is a pretty crazy town, on any day of the week you can meet someone who kills it, Lewis Jones is a prime example of that. One afternoon I was chilling at Whistler's river jumps and Lewis caught my attention, He was killing it, throwing down tech tricks such as 360 nacs, barspin combos, bar hops to no foot cans and more! I asked if he was interested in filming an edit, unfortunately he was leaving for Vancouver the next day, So I rushed home, grabbed the camera gear and came back to the jumps, we had a good couple of hours filming and I'm pretty happy with the result!"
Lewis is a young dialled rider, his spin variations and trick combo's are impressive! Sometimes though a straight backflip just needs to be done...
Can you say clicked?! Don't think that could be any more inverted if he tried
If you missed Jamie's first edit of his trip faeturing Ray George in Cali you can watch it HERE.
As of next week we should have a new edit and some more words from the man himslef. Until then have a great weekend and go ride!
Channels: Mountain Bike