Red Bull Rampage 2012 - Kurt Sorge Wins
Starting from the highest gate in the event's history the riders picked their line and took their chance as they pitted their wits against the mountainside watched by 2,000 spectators, whilst over 500,000 tuned in online.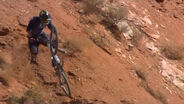 1:41
Rampage 2012: Kurt Sorge's winning run
2.550 Views
Rampage Evolution lived up to its name as the freeride world was forced to step up once again. This year the track was bigger and better than ever and with that comes a far greater risk to the athletes competing!
Unfortunately, injuries kept several riders out of the finals. Red Bull Rampage 2010 winner Cam Zink and second-place finisher Gee Atherton were both forced to withdraw after crashes during Saturday's practice session. Casey Groves pulled out after a last-minute practice crash on Sunday morning, and Brendan Fairclough, a first-timer at the event who was lighting the course up in the week leading up the event and built a huge canyon gap to launch in the Finals, decided to sit out after a crash in the Qualifier on Friday.
Cam Mccaul sending it in one of his practice runs.
This years standard of riding was exceptionally high, with judges and spectators commenting they were becoming desensitised by the level of skill and range of tricks. Riders had to bring their A game just to be in with a shot and Sorge's winning run which saw him execute his signature move -a super extended superman amongst others had all the ingredients for this.
Kurt Sorge treating the fans to his signature trick.
Despite some controversy on social media regarding the judging of Red Bull Rampage, Kurt Sorge undoubtedly had not one, but two of the best runs of the day, proving that with his steezy superman over the 'smaller' canyon jump after the Oakley icon sender.
Just in-case you needed any more proof why Kurt deserved the top step.
Big names like Darren Berrecloth, James Doerfling and Brandon Semenuk were to fall by-the-way-side as they were unable to stick their runs, both crashing on arguably the easier segments fo their runs. If they had completed their runs it would certainly have made judging this competition even more difficult than it already was!
Brandon Semenuk on his crazy hip sender before he crashed out lower down on his run.
After Semenuk crashed, it blew the overall FMB World title wide open for Martin Soderstrom. Martin would need seventh place or better to demote Brandon to second, a tall order considering the talent and the terrain. Martin openly admitted he was out of his comfort zone as he is best known as a slopestyle rider and does not usually ride big mountain tracks like Rampage. Despite this however it was loking good for Martin as he threw his usual effortless steeze down the 2,000ft hilside, but a wild crash right at the bottom out of a 360 was to blow his chances of claiming the top step overall. Semenuk claimed the FMB overall title for a second year in a row!
Despite crashing in both FMB platinum events Brandon holds onto the FMB overall title once again!
It was Frenchman Antoine Bizet's first time at Rampage and he filled his run with big drops and backflips from top-to-bottom, including a risky flip right at the top with a massive 60ft cliff beneath him. His first impression of Rampage was, "It was very scary but when you get your line you are so stoked." His fluidity, tricks and speed earnt him some decent points which hurled him into second place, behind Sorge.
Rampage first timer, Antoine Bizet going big off the Oakley Icon Sender.
Third spot would go to local boy Logan Binggeli. His second run was packed a lot better than his first, but to his surprise he was only rewarded with 1 extra point. It was enough to secure third place and on reflection he seemed happy with his position. "I couldn't be any happier. It's my first (time) on the podium here and I'm super stoked!"
Utah local, Logan Binggeli on his way to third place on 650b wheels.
So the 2012 FMB season has been finally wrapped up. The event went off without any serious injuries, much to everyone's relief and surprise and the overall title went right down to the wire. Although Brandon Semenuk won the overall once again this year he has many athletes snapping at his heels. If 2013 is anything like 2012 we are in for a treat. Long live Rampage!
Kurt Sorge, the seventh winner of Red Bull Rampage!
Full Results:
1. Kurt Sorge 86.75
2. Antoine Bizet 79.00
3. Logan Binggeli 78.50
4. Andreu Lacondeguy 74.00
5. Tyler McCaul 71.00
6. James Dorfling 70.50
7. Cam McCaul 70.00
8. Thomas Vanderham 68.25
9. Kyle Straight 65.75
10. Kyle Norbraten 65.25
11. Geoff Gulevich 65.00
12. Will White 64.50
13. Nico Vink 63.50
14. Brandon Semenuk 63.25
15. Martin Söderström 63.00
16. Ramon Hunziker 62.50
17. Brett Rheeder 58.25
18. Pierre Eduard Ferry 56.50
19. Darren Berrecloth 55.50
20. Brandan Howey 41.75
Channels: Red Bull Rampage 2012, Mountain Bike