UCI MTB World Cup Round-Up
It's the Monday after the seventh and final round of the UCI MTB World Cup and like many we feel the gaping hole left by the World Cup... There has been some familiar faces and some not so familiar faces who have graced the podium steps over the last seven rounds and now loyal followers of the MTB World Cup are ruthlessly thrown into the 'off season'. On the plus side the 2012 season had the send off it deserved in Hafjell, Norway. Here's the low down.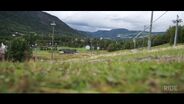 6:59
Ride.io - World Cup Round 7 Haljell, Norway
655 Views
A new track meant it was going to be the first time most of the athletes had laid their eyes on the track and like Val D'isere it meant there was a level playing field. The fastest down the hill wouldn't have an inside advantage, but just have the raw speed needed to take the win on the day.
Gwin may have taken the top step overall, but this was not going to be his race, a heavy crash in qualifying sidelined him for the finals. This left Gee and Greg to fight out who would take second place, with Steve Smith trying to ward off Sam Hill for fourth.
Rachel Atherton had it all to lose this race, she had clawed her way to the top of the table before the race, despite missing Round 1 at Pietermaritzburg. Emmeline Ragot was sitting in second and Myriam Nicole sitting relatively comfortably in third.
You could have been forgiven for thinking because most of the standings were already set in stone that this was the reason why the podium looked so different to the names we were use to, but you'd be wrong. The hunger and determination that drives the top athletes makes them want to finish strong, no matter what. Everyone still felt they had something to prove and we were treated to a spectacular final!
Lorenzo Suding - Pila Black Arrows Mtb Team sending his way to 28th on the day
As usual the Women went first. 23 qualified,but the first real contender was the current World Champ, Morgane Charre. She knocked 1.8 seconds off Casey Brown to take the hot seat with three riders left to go, proving last weeks result was not a fluke. At 22 she has a great future ahead of her.
The overall World Cup contender, Emmeline Ragot was to set off next. To win the overall she would need to win, whilst Rachel would have to finish outside the top five, a tall ask with so many of the big contenders retired, or injured. She gave it her all, she was fast and clean and posts a time 6.5 seconds up, will it be enough?
Between Emmeline and Rachel would be Manon Carpenter, the second fastest qualifier. She would take the stage and after a bronze in Leogang you could bet she was hungry for more, but a nasty crash just after the second split ruled out her podium hopes. She finished 30 seconds back.
Last female down, Rachel Atherton. All she needed was a top five, but Rachel being Rachel, she wanted to end on a high. Scrubbing over the first jumps she meant business and although she isn't the strongest pedaller Atherton makes up on the technical sections. She only needed a top five, but she was already one second up at the first split and crossed the finish line two seconds up on second place, Emmeline Ragot! First on the day and first overall, Rachel Atherton is your new 2012 world cup winner, her first time since 2008!
Rachel had it all to lose, but she wa spinned through the technical rocky sections!
Women Top 10 – Hafjell
Rachel Atherton
Emmeline Ragot
Morgane Charre
Casey Brown
Jacqueline Harmony
Petra Bernhard
Anita Molcik
Anita Ager-Wick
Tahnee Seagrave
Jess Stone
Women Top 10 Overall
Rachel Atherton
Emmeline Ragot
Myriam Nicole
Tracey Hannah
Emelie Siegenthaler
Morgane Charre
Petra Bernhard
Floriane Pugin
Manon Carpenter
Anita Molcik
Women's Overall (Left to Right) Emmeline Ragot, Rachel Atherton and Myriam Nicole
We pick up the action in the men's final with 8th place qualifier Gee Atherton. Pumped after his sister's win he takes the hot seat with a time of 3.34.053, nearly a whole two seconds in front of Kiwi, Cam Cole. He lost a close friend and a true legend in mountain biking, James Dodds, in a hunting accident last week. It had clearly unsettled him, but was racing in his honour. Cam would eventually finish sixth and eleventh overall, a solid result for him by all accounts.
Sam Hill was straight after Gee. A solid run in Sam's typical wild style slotted him just behind Cam, .5 seconds back. It was enough for him to claim fifth overall from Danny Hart. Next up was the first Devinci rider, Nick beer. Devinci had joked about getting all three riders on the podium, little did they know that was soon to become a reality. Nick finishes and goes right behind Gee.
Fifth qualifier and world champ, Greg Minnaar powers out the gate and makes up a considerable amount of time on the bottom section, he seems happy. Third on the day and second overall, great work by him. Four riders to go and fellow Santa Cruz Syndicate team-mate, Josh Bryceland is up next. He posts a time two seconds back from Gee, Eighth on the day and sixth overall. A solid year for him. Let's hope he can basque on the top step next year.
The second Devinci rider is up next, George Brannigan he's hungry for a top ten, at the second split. He is .6 up from Minnaar, he's looking good for the top step, let alone a top 10! He finishes 1.7 up, he's clearly stoked!
Even by UCI World Cup standards the setting and track were probably the best of the year!
The 'Swede with Speed', Robin Wallner, had his best ever qualifying result and was the second-to-last man down. He enters the first wooded section like a man possessed, but a faulty front brake dashes his hopes of his first ever world cup podium, big shame. So it was going to be a Devinci on the top step, but would it be George Brannigan, or Steve Smith? By now Devinci team manager, Gabe Fox was almost speechless.
Steve Smith flies over the top section on his prototype Carbon Devinci. He pedals over the jumps and rails through the gnarly rock garden, he's fastest at the first split and looks it! Her sprints for the finish line and takes the win by .4 seconds, it is a Devinci 1, 2 and the whole team are stoked! It's their first podium and three out of the five steps are taken by Devinci bikes! A big congrats to Gabe, Dave and the whole Devinci team.
Top 10 – Hafjell
Steve Smith
George Brannigan
Greg Minnaar
Gee Atherton
Nick Beer
Cam Cole
Sam Hill
Josh Bryceland
Markus Pekoll
Brendan Fairclough
Top 10 Overall
Aaron Gwin
Greg Minnaar
Gee Atherton
Steve Smith
Sam Hill
Josh Bryceland
Brook Macdonald
Danny Hart
Mick Hannah
George Brannigan
Men's Overall (Left to Right) Steve Smith, Greg Minnaar, Aaran Gwin, Gee Atherton and Sam Hill
So that's it for another year! We have to wait nearly nine months before Round 1 of the UCI DH World Cup. We'll be coming live from Fort William on 8-9th June, but until then we still have the small matter of Red Bull Rampage, the final round of the IXS Cup in Todtnau, plus many other amazing events! Be sure to keep checking in to see the latest news and events from around the extreme sports globe.
Pictures courtesy of Andres Jaramillo.
Channels: UCI MTB World Cup 2012 - Hafjell NOR, Mountain Bike