Danny Hart Sidelined With Injury For 2012 World Championship
Not the news any of us wanted to hear, but unfortunately Giant Factory Off-Road Team rider Danny Hart is currently recovering from shoulder surgery. Danny will miss the 2012 World Championships and the final World Cup race for the season. The current Downhill World Champion dislocated his shoulder in a practice run at the Air DH event, at Crankworx Les Deux Alpes on July 12.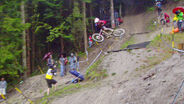 3:11
UCI MTB DHI World Championships 2011 Danny Hart's Run
378.232 Views
Following the crash, Danny immediately flew home to Great Britain, where he underwent surgery to repair the torn ligaments he sustained in his left shoulder. He started physical therapy a few weeks ago and has already gained 70% range of motion. Danny's recovery was looking promising and he is recovering quickly, but unfortunately not quick enough to be 100% fit for the World's in Leogang on September 2. He is now refocusing on his 2013 season.
Everyone at Extreme wishes him the best and to come back strong for the 2013 season.
Channels: UCI MTB World Championship 2012 DHI - Leogang, UCI MTB World Championships 2012, Mountain Bike