UCI Trials World Cup Antwerp: Results and Standings
Antwerp's city centre played host to the 3rd round of the UCI Trials World Cup 2012. The Belaey team pulled out all the stops when organizing the event and the course was certainly a spectacle in the city center with the impressive backdrop of Het Steen Castle. While the passing tourist and trial fans alike enjoyed the action in the sun, the 34C heat combined with the course difficulty resulted in a huge number of failed sections with the maximum 5 penalty points awarded. Gilles Coustellier was visibly relaxed as he rode in the 26" Super Final, starting with only 19 penalty points, compared to Kenny's 39, Jack's 40 and Guillaume's 50.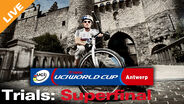 1:14:25
UCI Trials World Cup 2012 Antwerp
14.692 Views
Jack Carthy had to pick himself up after a disappointing fall from a balance beam in 2nd section, keeping himself in contention for second place with an excellent run of 3rd section. Kenny claimed to back to full strength after braking his arm in the 1st round at Alter, but with only two weeks full training under his belt he had to dig deep in the heat to claim second place ahead of Carthy.
Watch the full Replay of the 26" Super Final here with commentary from Jack Meek:
http://extreme.com/mountainbike/1021692/uci-trials-world-cup-2012-antwerp
1. Gilles Coustellier FRA 1st Lap 5 1 2 2 0 1 = 11 2nd Lap 5 2 0 1 0 1 = 9 Super Final 1 2 5 5 = 13 Total = 33
2. Kenny Belaey BEL 1st Lap 4 5 2 3 3 4 = 21 2nd Lap 3 5 0 2 3 5 = 18 Super Final 0 3 3 5 = 11 Total = 50
3. Jack Cathy GBR 1st Lap 5 5 2 5 2 5 = 24 2nd Lap 5 2 1 3 0 5 = 16 Super Final 2 5 2 5 = 14 Total = 54
4. Guillaume Dunand FRA 1st Lap 5 5 5 5 5 5 = 24 2nd Lap 5 5 2 2 1 5 = 20 Super Final 4 3 5 5 = 17 Total = 67
TRIALS Elite 26" Standings
COUSTELLIER Gilles 125 125 125 375 FONTENOY Aurelien 100 105 95 300 CARTHY Jack 105 75 105 285 DUNAND Guillaume 90 95 100 285 VUILLERMOT Nicolas 80 100 90 270 WEBSTER John 95 90 65 250 HERRMANN Hannes 85 64 85 234 VAN DEN BERGH Iciar 55 110 64 229 HEGEDUS Laszlo 75 80 70 225 BELAEY Kenny 110 0 110 220
Elite 20" Superfinal Antwerp
1. Benito Ros Charral ESP 1st Lap 0 1 1 5 0 5 = 12 2nd Lap 0 1 0 0 0 1 = 2 Super Final 0 0 0 0 = 0 Total = 14
2. Abel Mustieles Garcia ESP 1st Lap 1 1 1 2 5 5 = 15 2nd Lap 0 0 0 1 1 1 = 3 Super Final 1 5 0 0 = 6 Total = 24
3.Vincent Hermance FRA 1st Lap 0 1 1 5 0 0 = 7 2nd Lap 0 1 5 5 1 5 = 17 Super Final 1 5 0 0 = 0 Total = 27
4.Rick Koekoek NED 1st Lap 2 0 0 5 5 5 = 17 2nd Lap 5 1 0 5 1 4 = 16 Super Final 1 5 3 2 = 11 Total = 44
TRIALS Elite 20" Standings
HERMANCE Vincent 125 125 105 355 ROS CHARRAL Benito Jose 105 105 125 335 MUSTIELES Abel 110 110 110 330 KOEKOEK Rick 95 90 100 285 DIAZ CODINA Carles 100 80 80 260 AREITIO AGIRRE Ion 85 70 95 250 KOCIS Jan 80 95 75 250 COURTES Theau 65 59 90 214 LEHMANN Heiko 70 60 64 194 KRELL Lucas 75 56 58 189
Trials Women Antwerp
1st Gemma ABANT (ESP) 20, 2nd Tatiana JANICKOVA (SVK) 22, 3rd Janine JUNGFELS (AUS) 23
Channels: UCI Trials World Cup 2012: Antwerp, UCI Trials World Cup 2012, Mountain Bike