UCI Trails World Cup Explained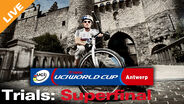 1:14:25
UCI Trials World Cup 2012 Antwerp
14.692 Views
v> Extreme.com is broadcasting the 26" elite super-final, live from Antwerp this Sunday 19th August, from 13:45 to 14:45 (CET). If you are wanting to join us for the live broadcast, but are unsure of the exact UCI Trials World Cup rules, don't worry, here's a quick 'crash-course' to bring you up to speed.
The UCI recognise the following types of individual events:
20" (Wheel size between 18" to 23")
26" (Wheel size between 24" to 26")
The idea is to gain the least amount of points possible in each section and the overall winner from that day is the person with the least points from all the combined sections. A maximum of 5 points can be incurred in each section.
UCI stipulates that a course must consist of at least six sections and a maximum of nine. The sections, each approximately 60m in length, are laid out on a circuit to allow riders to ride from one section to the next. The start line shall be at least three metres before the first difficulty (obstacle) to give sufficient space to the rider. The finish line shall be at least three metres after the last difficulty (obstacle) to avoid any argument over penalties. The maximum time a rider can complete a section in is 2 minutes 30 seconds, any longer and the rider will gain 1 point for every 15 second interval he/she is over.
The main penalties a rider can incur whilst on track are broken down on the list below:
1. Resting a pedal and/or the lower chain guard on the ground or on the obstacle (1 point).
2. Passing the maximum time cut of 2'30 minutes for the section (1 point per 15 seconds)
3. Riding over or under, raising or tearing the tapes and arrows marking the limits of the section (5points).
4. Entering the gate of some other category of the competition, skipping a gate or an arrow of his/her category or not riding the gates or arrows in the correct order (5 points).
5. Holding the bike other than by the handlebars (5 points).
6. Placing both feet simultaneously on the ground or on an obstacle (5 points).
7. Placing both feet on the same side of the bike when one of the feet is on the ground (5 points).
8. Fall, i.e. parts of the body above the hips in contact with the ground, or sit on the ground or on an obstacle (5 points).
9. Touching the ground or the obstacle with a hand that does not hold the handlebars (5 points).
In each world cup event there is a ¼ final, ½ final, final and super final. In all heats riders will complete two laps of the course, with the exception of the super final where the top four riders will complete one lap of four sections.
So there you have it, you can now consider yourself enlightened. Of course there are many other rules that we have omitted, but we feel this is a sufficient insight into the trials world. If you want to know more follow the link for the official
UCI Trials Cycling Rules & Regulations