Crankworx 2012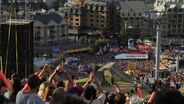 2:15
619 Views
v> It's that time of the year again, a time when mountain bikers from around the world wish they were all at the same spot. Whistler, the 2012 Crankworx Festival kicks off today and is set to bigger than ever! When Crankworx rides into town, Whistler BC makes its annual transformation into the Colosseum of freeride mountain biking. In a stadium of dirt sculpted out of raw mountain, a hedonic convergence of riders and bike lovers from all around the world gathers to crown champions and revel in the mountain biking revolution.
For 10 days the world's best from all disciplines descend on this mountain village. It's the one time where you can see the likes of Cam Zink racing alongside Nicolas Vouilloz and Andrew Neethling in the same event.
The atmosphere and buzz generated from the crowds, which are usually 10 deep, is what ultimately makes this contest so special. Passion, ingenious hand-made banners and testosterone have never been in such high abundance and the night life is almost as famous as the events themselves.
The climax of this 10 day mountain biking bonanza climaxes with the Red Bull Joyride slopestyle event, taking place on Sunday 19th August. Extreme.com has teamed up with Red Bull TV to bring you a live feed of the event so you don't have to miss a second of the FMB title Diamond event.
Channels: Crankworx Whistler 2012, Mountain Bike