First Round of the UCI Trials
The UCI Trials World Cup 2012 gets under way on June 1st in Belgium. This will be the first of three days. This year there is a different format as normal there will be qualifications, semi-finals and the final. But the new innovation is the introduction of the 'Super Final'. This will pit the four best pilots in the two men's categories against each other. They will perform in reverse order of the classification, but will conserve the points won during the final. The winner will only be known after the 6 zones of the final and the 4 zones of the super final.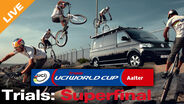 1:12:31
The competition in Aalter is or organised by World Champion in the 26" category, Kenny Belaey who will want to shine for his own country, Belgian. He will be up against Gilles Coustellier, who just won the Tria Pro series. The outsiders for the super final will be French contenders Guillaume Dunand and Aurélien Fontenoy, who recently finished on the podium of the Trial Pro Series, the German Hannes Herrmann and Britain's Andreï Burton. The Belgians Iciar van Den Bergh and Pierre Charles Thomas will be looking to provide spectacular performances for their public.
The competition in the 20" category will be one to watch. The arrival of Vincent Hermanc will add a new dimension, which could well lead to a change of hierarchy among the best athletes. Number 3 in the world Dani Comas with drawled from the UCI level competition alongside Benito Ros who is suffering from a knee injury.
After the opening round in Aalter, the 2012 UCI Trials World Cup will continue with another four rounds:
-Val Isère (France), 26-28 July
-Anvers (Belgium), 17-19 August
-Pra Loup (France), 24-26 August
-Genève (Switzerland), 21-23 September
Watch the first round from Aalter Live http://extreme.com/mountainbike/1021689/uci-trials-world-cup-2012-aalter