Andreu Lacondeguy wins the Red Bull Berg Line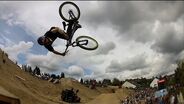 2:56
Red Bull Berg Line - Andreu Lacondeguy
2.252 Views
Thousands of spectators came to the Red Bull Berg Line Event in Winterberg to root for the strong and encouraging rider line up on the extremely demanding slopestyle. When Andreu Lacondeguy heard that the course offers some of the biggest jumps ever, it was clear that he had to participate at the Red Bull Berg Line. Andreu is well known for his passion to massive jumps. His unique and big airtime-orientated style landed him in first place. It was his second run that catapulted him all the way to the top. He started with a x-up at the 7 meter drop, double backflip 12 meter dirt jump, followed by a 360-flatspin, into another 360 onto the step up, backflip at the step down, tailwhip over boner log and a table top at the quarter. With a run like that, the top of the podium was well deserved and the judges had no doubt scoring him with the highest points of the day. His double backflip brought him also 1st place for the best trick. But instead of taking the victory for himself he decided to catch Sam Reynolds (who did the same trick), pulled him up to the podium and shared the award with him.

Andreu's Statement: "I heard about the Red Bull Berg Line comp and that the jumps will be huge! That's exactly my thing! I loved the course and really wanted to win. I crashed in my first final run and Reynolds set the benchmark real high, so I had to go for it in my second run. I said to myself: 'double or nothing'! And it worked out! I am happy also for my German bike sponsor YT Industries. It was my first big win on the new bike at the biggest German freeride event and they saw me winning!"

Andreu has been quite busy in the last weeks since his season started with two film shootings that will be released in the next few months. This week the Catalan flies to Utah to film for the new Freeride Entertainment movie called "Where the trail ends".

Be wound up to see Andreu soon back at the next contests, whether it will be Les Deux Alpes, Whistler or Rampage - Andreu is on fire for 2012!
Channels: Red Bull Berg Line 2012, Mountain Bike