Crankworx Les 2 Alpes 2012
Update - Teva has confirmed that its slopestyle experts Cam McCaul, Sam Pilgrim, Paul Basagoitia and Kurt Sorge will be attending Europe's inaugural Crankworx event in Les 2 Alpes this July.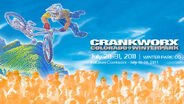 Crankworx Colorado 2011 - Slopestyle Finals - LIVE
21.396 Views
Paul Basagoitia commented: "It's awesome to see Crankworx expand over to Europe! The event has become much larger than I ever expected it to be; I'm excited to showcase my skills to all the European fans!"
The team has a strong track record of freeride results with Basagoitia's Crankworx wins in 2004 and 2005, podiums for McCaul and Pilgrim at Crankworx Colorado last year and a podium for Sorge at Chatel Mountain Style in 2011.
------
Teva to sponsor Big Trick competition at Crankworx Les 2 Alpes 2012
Action Outdoor footwear brand Teva has teamed up with the Crankworx crew to deliver a show-stopping big air event during the Crankworx Les 2 Alpes festival on July 13, 2012.
Crankworx, the world's greatest freeride mountain biking festival, will make its European debut this summer, and Teva has joined as a gold level sponsor. After the last gravity junkies have crossed the finish line, the airborne side of Crankworx Les 2 Alpes will kick off with the Teva Best Trick contest on Friday evening, July 13th. The gigantic seven meter kicker at the bottom of the slopestyle course will be the stage for the world's best riders to give it all they've got. "We're incredibly psyched to see Crankworx come to the other side of the pond. The Whistler event's energy is legendary, and we knew we wanted to be involved from the beginning. Plus, we've got some cool plans for the event on-site; stay tuned for more," stated Toshi Corbet, Teva's global sports marketing manager.
Teva athlete and Crankworx regular Sam Pilgrim also commented on the news. "I was super stoked to hear that Europe is getting a Crankworx event—it's going to be huge and shouldn't be missed. I'm happy that Teva's on board. The whole crew there makes the riders feel very welcome, so it's a brilliant logo to see when you arrive at the event!"
"Having Teva on board for our inaugural European event is huge," says Darren Kinnaird, Crankworx General Manager. "The Teva Best Trick Showdown is one of our signature events and we are excited to partner with them to put on an amazing event in Les 2 Alpes this July."
Teva has been supporting freeride mountain biking for the better part of a decade and concretely stepped into the scene in 2011 with the launch of its Links shoe. The brand plans to unveil a mid-cut version this summer which will be on display at Crankworx Les 2 Alpes.
____________
As they say below, the worst kept secret in mountaining biking has been confirmed (well, one of them...) -
"Crankworx will jump the Atlantic Ocean this summer, land in France, and add Crankworx Les 2 Alpes Freeride Mountain Bike Festival to the summer riding schedule July 9-15, 2012. July's week-long Crankworx Les 2 Alpes will precede Crankworx Whistler taking place August 10-19, 2012.
Crankworx Les 2 Alpes will build on Crankworx's legendary legacy in the arena of freeride mountain biking and will be the first Crankworx event to take place outside of North America. "Today, we are happy to confirm the worst kept secret in mountain biking, we have partnered with Ayton Concept to present Crankworx Les 2 Alpes in France.
Our teams will work together to plan and execute on the ground, ensuring this freeride mountain bike festival lives up to the Crankworx name," says Darren Kinnaird, General Manager of Crankworx Whistler. "With six events encompassing Slopestyle, Downhill and two exciting, new Dual hybrids, we believe Crankworx Les 2 Alpes will prove to be an awesome expansion for us and another world-class opportunity for the best mountain bike athletes to showcase their freeride skill and expertise." Co-host Ayton Concept was set to debut a freeride mountain bike festival in Les 2 Alpes called K-Mikaz Games in 2012 but after experiencing Crankworx in Whistler last summer with Les 2 Alpes' Director of Tourism, Gilles Vanheule, discussions to partner with Crankworx at the French resort began.
"I've been a fan of Crankworx for years and was in Whistler for the first time with my Ayton-Giant-Les 2 Alpes Gravity MTB Team in 2004," says Sebastien Chovet, Global Manager, Ayton Concept. "I have been back several times since and each time have been blown away by the location and level of competition. Gilles and I loved what we saw and we knew partnering with Crankworx would be a great opportunity for Les 2 Alpes." The level of competition will be high at Crankworx Les 2 Alpes with the IXS Slopestyle rated as a Gold level event on the Freeride Mountain Bike World Tour. The invitational event will feature 35 of the world's best slope athletes competing for a prize purse of €15 000 on a course designed by Yannick Granieri.
Les 2 Alpes' overall prize purse will be €42 000, plus prizes, to be awarded through July 9-15, 2012. "We are happy to be able to bring Crankworx to Europe and Les 2 Alpes is a perfect venue for the legendary festival vibe and top level freeride mountain bike competition Crankworx is known for," says Kinnaird. "Just as we have in Whistler, Les 2 Alpes will showcase will showcase the world's best freeride athletes, expanding the range of what is possible on a mountain bike in an incredible setting."
"Crankworx has been the highlight of summer for all types of mountain bike enthusiasts for the past eight years," says professional mountain biker Cam McCaul. "It's the perfect blend of recreational riding and top-level competition to create a week of fun and excitement that can't be beat. The addition of Crankworx Les 2 Alpes to the schedule is just what we need to check out their bike park and spread the magic of Crankworx. I can't wait!"
Channels: Crankworx Les 2 Alpes 2012, Mountain Bike