Polygon signs Sam Reynolds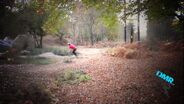 0:51
DMR Bikes Rider Sam Reynolds Double Flip
2.713 Views
Freeride athlete Sam Reynolds joins the Polygon team as their first European rider after signing the contract with the rising bike manufacturer today. Polygon is already the leading bike manufacturer on the South Asian market and is now expanding to Europe. In 2012, their bikes will be hitting bike shops near you. With one of the most progressive European riders on board, Polygon is looking forward to a bright future.

Polygon can look back on two decades of experience and in that time were able to prove their technological know-how and passion for gravity sports. It is for a good reason that their DH racing team, the "Polygon Factory Team", takes home one victory after another in the Asian series. For 2012, Polygon is getting ready to bring their quality craftsmanship and cutting-edge technology to Europe in form of their own range of bikes. As a next step along the way, the bike manufacturer is excited to have the young and talented British rider on the team: "With his direct input, Sam will help us develop our bikes even further in order to provide the best riding experience to all Polygon riders. His will to always push forward and always give his best makes him a great ambassador for the Polygon company", says Yustian Nimara, Marketing Manager of Polygon bikes.

With Polygon's wide gravity range, Sam Reynolds will be perfectly equipped for upcoming competitions, such as the different stops of the FMB World Tour. Sam being such a versatile rider, Polygon made sure he has a bike for every occasion. "It's awesome to be part of something fresh and new and I am really stoked to be the first rider in Europe to sign for the Polygon team. Straight away Polygon has felt like the perfect match and I can't wait to test my frames, especially the Cozmic DX Alloy & Cromo bike, and to develop them into the most fun bikes money can buy!" The 20-year-old British rider ranks among the top riders worldwide and has achieved great success in numerous competitions, like the 4th place at Red Bull District Ride, 2nd at Monster Energy White Style and overall winner of the UK King of Dirt Tour.
Channels: Mountain Bike