Prokop and Beerten win 4X gold in Champery
The 4X World Champs couldn't have set a more dramatic tone for this years event in Champery as riders raced, fell, cried and cheered their way to victory.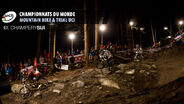 2:09:25
UCI MTB 4X World Championships 2011 Replay
13.398 Views
A collective fall in the final of the men's four-cross competition saw all four finalists hit the dirt. Bronze medalist in Mont Sainte-Anne last year, Michal Prokop (CZE) was the first back on his bike and he led to the finish to take his third world title after Lugano in 2003 and Rotorua in 2006. Switzerland's Roger Rinderknecht quickly made up ground and finished close behind to take silver, thus reproducing the same 1-2 finish as in 2006. Joost Wichman (NED) took the bronze medal.
2011 World Cup winner, World Champion in Canberra and silver medalist at last year's World Championships, Jared Graves (AUS) had to make do with fourth place. An upset of the evening was the elimination of the 2010 World Champion Tomas Slavik (CZE) in the quarter-finals.
The Dutch rider and World Cup winner for 2011, Anneke Beerten, fought back tears of joy after winning her first World Champion title, one that had eluded her until now. She dominated all the qualifying rounds and continued her winning streak to take a comfortable victory in front of Fionn Griffiths (GBR) and Céline Gros (FRA). It was the perfect finishing touch to an impressive season for Beerten, though here at Freecaster we're sure her greatest schievement this season has been sharing a commentary booth with Warner!
To watch the full replays of all the action from Champery, head to the STORE and purchase your access pass.
Channels: UCI MTB World Championships 4X 2011, UCI MTB World Cup 4X 2011, Mountain Bike