Gwinn Takes Lead in Kabuto Speed Trap After Round 5
Trek World Racing rider Aaron Gwinn took the lead in the Kabuto Speed Trap standings after Round 5 in Windham, USA. Aaron knocked Greg Minnaar off the top spot with his 58.68 km/h, however it was Sam Blenkinsop who was really flying in the USA... being the only rider to break the 60 km/h barrier, pulling him well into the Top 10 in the Kabuto Speed Trap overall.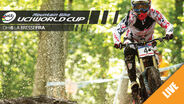 3:30:21
UCI World Cup 2011 DHI 6 - La Bresse FRA Men
100.684 Views
Brits Steve Peat and Marc Beaumont continue their march up the standings, with 3rd & 4th place respectively, whilst Steve Smith rounds out the Top 5.
Stay tuned to mtbworldcup.com this weekend for more Kabuto Speed Trap action during Round 6 of UCI DH World Cup.
Channels: UCI MTB World Cup 2011 - La Bresse FRA, Mountain Bike