The BRU's Newest Recruit: Tracy Moseley
Bike Riders Utd have a new member, Tracey Moseley. Here's what they had to say on the matter -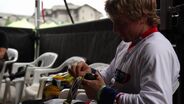 5:45
Trek World Racing In Pursuit: Winning In Windham
4.089 Views
"A sensational talent and one of the most professional riders on the International circuit – she has dominated the Uk scene and in 2010 added the World Champion's Rainbow Jersey to her trophy cabinet, her first World Title! Currently leading the World Cup series (which she last won in 2006) and is also setting her sights on certain XC races too!
The UK's most decorated and successful Downhill rider has joined our midst and we couldn't be happier to have her on board
Tracy Moseley – Welcome to BRU!
Tracy is going to be giving us access to behind the scenes action and news from her riding season. We will also be shooting some bespoke BRU video content with her in the coming months."
Channels: UCI MTB World Cup DHI 2011, Mountain Bike