SCOTT New Windham World Cup Title Sponsor
SCOTT Sports announced today that they would become the Title Sponsor of the 2011 Windham UCI Mountain Bike World Cup Downhill event. Windham is the seventh stop on the 2011 UCI Mountain Bike World Cup tour and takes place July 7-10th 2011 featuring both Downhill and Cross-Country disciplines.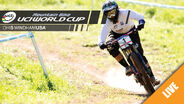 UCI World Cup 2011 DHI 5 - Windham USA Replay Men
112.540 Views
"The US is the birthplace of Mountain Biking, and having a World Cup on US soil is so important," said Adrian Montgomery, Marketing/PR Director for SCOTT Sports. "As a long time supporter of the World Cup,we felt it was crucial to back the Windham World Cup and ensure the continuation of our Mountain Bike heritage. SCOTT will be fielding Cross Country and Downhill teams at the event with our SCOTT-Swisspower and SCOTT11 teams. We're so proud to be the title sponsor for the DH race in Windham and feel confident this move will elevate our profile amongst the racing community."
Channels: UCI MTB World Cup 2011 - Windham USA, UCI MTB World Cup DHI 2011, Mountain Bike