Pro Sprint Eliminator Attracts Worlds Best XC, 4X and DH riders to Dalby Forest, UK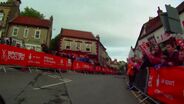 1:57
Onboard with Nino Schurter at Pro Sprint Eliminator 2011
10.366 Views
v> Photos courtesy of Luke Webber @ British Cycling
The Pro Sprint Eliminator kick started the racing at the UCI Mountain Bike World Cup in Dalby Forest, UK. Held in the nearby market town of Pickering, the Pro Sprint Eliminator held not only the promise of a 1000 EUR winner's cheque, but also the extra incentive of vital UCI points that would count towards qualification at the London Olympic Games in 2012.
The streets of Pickering were lined with spectators, enjoying the sunshine and the fact that the World Cup circus had come to town.
But the real buzz of anticipation was in the pits. With former World XC Champion Nino Schurter, multiple World 4X Champion Brian Lopes, reigning World DH Champion Tracey Moseley and reigning World Cup 4X Champion Anneke Beerten all competing in the same race, mountain bike fans of all disciplines knew they were going to be in for a treat.
Tracey Moseley – winner of the Downhill at Round 1 in South Africa a few weeks earlier – put in a storming qualifier and finished an impressive seventh after helping compatriate Annie Last recover from a slipped pedal in the semi final. So in the final it was Nathalie Schneitter, Alexandra Engen, Annie Last and Katrin Leumann.
From the start of the final, Schneitter took control and had the win the bag all the way. Annie Last battled a poor start to eventual pip Leumann on the line for second place, after sprinting the entire length of the high street.
All eyes were on Nino Schurter in the Men's event, having won the Elite XC in Dalby last year. Meanwhile wildcard entry and MTB legend Brian Lopes had everyone twittering... as he looked as fit and determined as ever, putting in a flying qualifier. However, it was the mighty Australian Paul Van Der Ploeg who was to be chief Eliminator on the night... dispatching Marco Fontana and last year's Pro Sprint Eliminator winner, Thomas Litscher, in the final to take the win
Tune in on Sunday 22nd May for the Main Event: Women's Elite XCO at 11:45 CET and 14:00 CET for the Men's Elite XCO race, from Round 2 of the World Cup in Dalby Forest, UK, live and exclusively on the internet
HERE
.
Channels: UCI MTB World Cup 2011 - Yorkshire, Dalby Forest GBR, UCI MTB World Cup 4X 2011, UCI MTB World Cup DHI 2011, UCI MTB World Cup XCO 2011, Mountain Bike