Freecaster.tv DVD Soundtrack Info
The 2010 Freecaster Downhill DVD has got some great tracks from artists you should know about!  So we've produced a page to introduce those bands and help you find out more about them: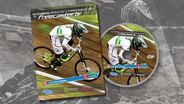 2:06
UCI DH World Cup & Champs 2010 DVD by Freecaster.tv - SHIPPING NOW
31.064 Views
It ain't easy sourcing  rights approved music... and it ain't easy being an up-coming recording artist in this World of file-sharing... so if you like what you hear, please show your support by buying the tracks where possible!
Rock on...
Channels: Mountain Bike, Rock