Difficult first training and a real snake bite in Val di Sole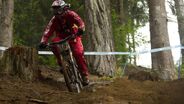 4:10
Helmet Cam from Val Di Sole with Fabien Pedemanaud
15.135 Views
News from the SCOTT11:
The first day of DH training at Round 5 of the UCI World Cup in Val di Sole started in deep dust. The natural track has plenty of roots and rocks, and the dry, dusty and fast conditions in the morning were putting a smile on the rider's faces.  
However, at lunchtime heavy rain came in and changed things. Once again (like at every other world cup this year except for Scotland) the Scott11 mechanics put the Schwalbe Dirty Dan mud tires on their bikes.   The big wet roots on the course were challenging rider skills, but since these conditions have almost became standard this year, and they could handle them well... especially after a weekend on the steepest track of the World Cup in Champery.  
Even scarier than the gnarly track in training was the fact that a camera man got bitten by a snake just next to it and had to be treated in hospital!!!  
Fabien Pedemanaud's helmet cam run in the dry is up, so check it out below...
Photo credit: Sven Martin
GERMAN TRANSLATION: Schwieriges erstes Training und ein Schlangenbiss in Val di Sole
Das erste Training heute in Val di Sole begann in tiefem Staub. Die natürliche, mit vielen Wurzeln und Steinen bestückte Strecke sorgte für glückliche Gesichter bei den Athleten. Am Mittag änderte starker Regen die Dinge. Einmal mehr, wie bisher an jedem Weltcup ausser in Schottland, montierten unsere Mechaniker die Schwalbe Dirty Dan Schlammreifen.  
Die grossen nassen Wurzeln auf der Strecke forderten unsere Fahrer heraus, jedoch sind diese Bedingungen in diesem Sommer bereits beinahe ein Standart. Die Athleten konnten gut damit umgehen, erst recht nach der vergangenen Woche auf der steilsten Stecke der Welt in Champéry. Was den Fahrern mehr Angst einflössen dürfte, als die spektakuläre Strecke, ist die Tatsache, dass ein Kameramann neben dieser von einer Schlange gebissen und danach im Spital behandelt wurde.    
FRENCH TRANSLATION: Premier entrainement difficile à Val di Sole  
C'est dans une épaisse poussière que les coureurs ont commencé l'entrainement aujourd'hui. Pourtant les athlètes arrivaient avec un grand sourire, ravis de la piste naturelle couverte de nombreux rochers et racines. Sur le coup de midi les choses ont changé; la météo tourna et il se mit à pleuvoir fortement. Une fois de plus, comme à chaque coupe du monde cette année à l'exception de l'Ecosse, nos mécaniciens ont du monter les pneus boues Schwalbe Dirty Dan sur les vélos.  
Les grosses racines de la piste à présent détrempée ont mis à l'épreuve les pilotes, bien que cette été ces conditions soit devenues habituelles. Les coureurs s'en sont toutefois très bien sortis, surtout après un weekend sur la piste la plus raide du circuit mondial, à Champéry. Ce qui pourrait faire plus peur que la piste spectaculaire, c'est le fait qu'un cameraman s'est fait mordre par un serpent et et a du être amené à l'hôpital.
Channels: Mountain Bike