BAMMA 16: Paul 'Semtex' Daley set to make explosive return
BAMMA 16 comes to Extreme Sports Channel this weekend and there's a thrilling fight card in store. Here's our preview...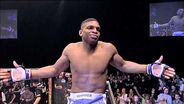 0:31
210 Views
British welterweight Paul Daley returns to the cage for his first mixed martial arts bout of 2014 at BAMMA 16.
Daley is due to face late replacement Marinho Moreira da Rocha in the headline bout at Victoria Warehouse in Manchester.
The Nottingham fighter is the biggest draw for UK audiences and is known for his devastating striking prowess.
Previous experience in the UFC, and an infamous sucker punch, make the man known as 'Semtex' something of a household name in the world of MMA, particularly in the UK.
His explosive finishes have excited audiences for over a decade, and he boasts an impressive 74% stoppage rate via KO or TKO. Daley is generally regarded as one of, if not the best, striker at welterweight in the world as a result.
Daley has recently signed a contract with Bellator in the US, but has two more fights left on his contract with BAMMA which he intends to honour.
He has spent much of the year fighting in K1 (winning all four of his bouts), but will step back inside the MMA cage for the first time since last December where he beat another Brazilian Romario Manoel da Silva via another devastating KO punch.
The Brit faces a late change of opponent in da Rocha after Igor Fernandes pulled out with an injury. Replacement da Rocha brings an exciting record of his own to the fight and has been billed as the Brazilian Paul Daley, boasting an equally impressive stoppage record of 75%, with just three fights in a decade going to decision.
The Brazilian, from the Coalizao Fight Team, is undefeated in his last six fights which all ended via KO/TKO and he last fought in May beating countryman James Silveira at Arena Fight 6.
The BAMMA 16 card was due to see Mansour Barnaoui return to defend his Light Heavyweight belt against American Michael Brightmon. That bout has now been earmarked for BAMMA 17 in December after Barnaoui had to pull out through injury.
As a result Tom Duquesnoy and Ashleigh Grimshaw find themselves boosted up the card.
Duquesnoy, 21, is set for his first featherweight title defence in what is expected to be his toughest challenge yet in the shape of the experienced Grimshaw, 35. While respect exists between the two fighters, both Duquesnoy and Grimshaw have questioned each other's attributes.
Grimshaw has some impressive career wins over UFC alumni Phil Harris and Vaughan Lee and has questioned the quality of his young opponent's previous bouts. Indeed, some of Duquesnoy's peers agree that this fight should answer any nagging questions about his real ability.
The debate has not affected Duquesnoy, however, who insists his training methods have not changed despite being champion and is as focused as ever. He also described Grimshaw as an "old school" MMA fighter who has questionable cardio and who hasn't evolved with the "modern" sport.
Also on the card, Leon Edwards will defend his British welterweight title against Shaun "The Disgrace" Taylor. Edwards won the title against Wayne Murrie at BAMMA 15 and is set to put the title on the line for the first time against the undefeated Taylor.
Former TUF star Mike Wootten also makes his first appearance on the card, taking on Frenchman Antoine Gallinaro in a bantamweight bout.
Fighting under Ronda Rousey on The Ultimate Fighter Wootten shot to fame, making it to the semi-final where he lost to eventual winner Chris Holdsworth.
Wootten has an undefeated professional record and is keen to showcase his skills and see how far he can go in MMA.
Channels: MMA