Shaun 'The Disgrace' Taylor ready for BAMMA debut
Shaun Taylor is ready for whatever BAMMA throw at him as he prepares for his debut performance on the UK-based MMA promotion.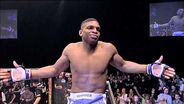 0:31
210 Views
Taylor, also known as The Disgrace, is scheduled to challenge Leon Edwards for the BAMMA Lonsdale British Welterweight title this Saturday at BAMMA 16 in Manchester.
The undefeated Scot, however, confesses he is not motivated by titles, but rather the thrill of winning.
He said: "I'll fight for anything you put in front of me, be it bragging rights or a shiny bit of metal. Who and when is up to my coaches and the guys at BAMMA."
Taylor, who has a record of 7-0-0, has been training hard for Edwards and spent some time in America brushing up on his skills.
He said: "I was out in Arizona for 7 weeks with the guys at the MMA LAB, which has an insane level of fighters.
"America is ten years ahead of the UK. The wrestling level is second to none as are the resources that are in the sport."
Taylor is scheduled to appear at least three times for BAMMA and is open to whoever the promotion throws at him.
I'll fight for anything you put in front of me!
He is just delighted to be on a show that he has watched for years and is "at the forefront of British MMA".
He added: "Why wouldn't I want to be a part of that."
Taylor is busy in his final week of preparation for Edwards, following a tried and trusted routine.
He said: "My process in the final week as almost exactly the same as previous weeks. Keeping the consistency is an important part of the camp, the exception being my diet alters slightly and I play video games more."
The welterweight fighter is also unconcerned about scouting Edwards, who won his title at BAMMA 15 from previous champion Wayne Murrie.
He added: "I've not looked at his fights. My coaches have but my job is to focus on my game and its application, not his."
With Edwards impressive record (7-1-0) and Taylor undefeated, the title bout at BAMMA 16 looks set to be a one to watch.
BAMMA 16 takes place at Victoria Warehouse, Manchester this Saturday, 13 September.
The first place you can watch the full replay of BAMMA 16 is Extreme Sports Channel UK at 9pm on Saturday 20th September. For full TV listings click here.
Channels: MMA