Danny Davis defends X Games SuperPipe gold
Snowboarding's soul man goes back-to-back, White misses podium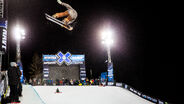 3:33
Danny Davis's Winning SuperPipe Run
149 Views
Danny Davis won his second-straight X Games gold medal in the halfpipe while Shaun White missed the podium on his return to Aspen.
The American stomped his final run of the contest to earn a 93.66 and push Japan's Taku Hiraoka into second with Olympic champion Iouri Podladtchikov picking up the bronze.
Davis is now the only rider other than White, who won six in a row, to defend his X Games title in SuperPipe.
And he admitted he was surprised to be standing top of the podium for the second year running.
"It's very unexpected," he said. "I haven't been riding a ton of pipe this year. But I had a lot of fun tonight and I just wanted to land runs. That's what I did.
"I actually think this is the first thing I have ever done back-to-back. It feels like a good accomplishment.
"It means I am snowboarding well and I landed a lot of runs today. That is a good feeling."
After winning his first gold last winter, in his first-ever X Games final, Davis was quick to point out that SuperPipe legend Shaun White had not been competing.
Davis' unique style, which favors air and flow over excessive spins, proved to good even for the Flying Tomato however as could only finish forth on his X Games comeback.
But it wasn't easy for Davis, who watched Hiraoka post a score of 92.33 and move ahead of Podladtchikov's 89.00, with just one run to go.
But the innovative rider, and founder of Peace Park, overcame the pressure and sealed his historic second X Games medal with a clutch final run.
For more results and highlights from Day 2 at X Games Aspen 2015 click here.
Men's Snowboard SuperPipe Final Results
1 Danny Davis, (USA) 93.66
2 Taku Hiraoka, (JPN) 92.33
3 Iouri Podladtchikov, (SUI) 89.00
4 Shaun White, (USA) 82.00
5 David Habluetzel, (SUI) 79.00
6 Ayumu Hirano, (JPN) 77.66
7 Yiwei Zhang, (CHN) 75.00
8 Gabe Ferguson, (USA) 73.00