Relentless Energy Freeze 2012 - Athletes and Line Up
The UK's biggest Winter Sports Festival and Après Ski Party, the Relentless Energy Drink Freeze in Association with Metro, has added more top music acts to the weekend line-up who will be performing on the Energy Sessions Bar sponsored by Relentless and The Desperados Factory.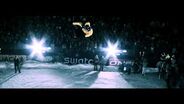 1:04
Freeze 2012 - Official Trailer
185 Views
Returning this October (26-27th), to the iconic Battersea Power Station towers in London for the fifth year, over 35,000 expected fans can enjoy world class winter sports action on the slope during the day and by night, electric performances on the main stage by hip hop trailblazers Public Enemy, American hip hop pro DJ Shadow, new collaboration project from Mark Ronson vs Zane Lowe, A-YO! and hip hop legend Grandmaster Flash.
In addition to the music, the world's best skiers and snowboarders will be jetting in for the International Snowboarding and Ski Big Air competitions.
Bringing an eclectic range of electronica and dance acts to this year's event, the Energy Sessions Bar promises not to disappoint Dance fans. Headlining the stage on Friday 26th is one of the world's most progressive DJ collectives, Scratch Perverts, with support from the unmistakable sounds of Jay Da Funk and brilliant British duo Plastic Thumbs.
Closing the Energy Sessions Bar on Saturday 27th, with unrivalled talent on the decks is Jacob Plant, Majestic & Annaca and DJ masters Urban Knights. Fans can also enjoy a feast of entertainment at The Desperados Factory with top DJs set to perform across the weekend.
On Friday 26th catch Dynamite lighting up The Desperados Factory with support from hip hop meets electronica duo The Nextmen. Then on Saturday 27th, drum and base specialist Shy FX will close the Freeze party for Desperados following support from the brilliant Raf Daddy (The Two Bears).
The Desperados Factory will also showcase top skateboarding talent on the Skate ramp, drummers and body graffiti artists 'The Urbanist'.
Full act list -
Main Stage: DJ Shadow Public Enemy Grandmaster Flash A-YO! (Mark Ronson v Zane Lowe) Stanton Warriors DJ E-Z Snatch The Wax Swami Barracus Smiler Astroid Boys Future Disco Vagabondz Energy Sessions Bar sponsored by Relentless: Scratch Perverts Jacob Plant Jay Da Funk Urban Knights Plastic Thumbs Phuture {hunk Crooked Cats Loud Minority ft. Russ Jay & Melvo Baptiste Natty Bearface The Desperados Factory: Ms Dynamite Shy FX The Nextmen Fat Daddy (The Two Bears) Major Look Murkage Star One (Resident) Madam X (Resident) Duke Rebel Bingo
Athlete line up -
Freeze Ski Big Air - Andreas Hatveit Andrei Ambuhl Bene Mayr David Wise Elias Ambuhl Gus Kenworthy Henrik Harlaut Jacob Wester James Woods Jossi Wells Kai Mahler Klaus Finne Matt Walker McRae Williams Mike Riddle Mikkel Joraandstad Oscar Harlaut Oystein Braaten Paddy Graham UK Qualifier UK Qualifier
Freeze Snowboard Big Air - Antoine Truchon Billy Morgan Eiki Helgason Gjermund Braaten Halldor Helgason Jamie Nicholls Kevin Backstrom Marco Grigis Marko Grilc Maxime Parrot Roope Tonteri Stale Sandbech Sven Thorgren Torgeir Bergrem Ulrik Badertscher Victor De Le rue Werner Stock UK Qualifier UK Qualifier
Ski Union Battle Of Britain - Andy Bennett Andy Matthew Cal Sandieson George Walton Harris Booth James Webb Josh Birch Mike Wakefield Monty Wright Murray Buchan Tom Coe
Whitelines Battle Of Britain - Andy Nudds Ben Kilner Cody Hierons Jamie Trinder Jesse Smith Katie Ormerod Lewis Courtier Jones Lewis Sonico Matt McCormick Matt McWhirter Nate Kern Nathan Onions Rowan Coultas Sam Turnbull Scott Penman Sean Tumelty