Red Bull Joyride Final Results
Semenuk described his emotions through his trade marked grin, "it was such a tight event, but what I love about mountain biking is there really aren't any rivals, people try to make it seem like that but really we're all up at the top talking about the course and pushing each other. We're definitely competing but at the end we're all going to give each other high fives and stay friends. It's just so cool to be a part of this community and to come out on top today at such a great event is just amazing!" His win today secures him a guaranteed invite directly to the finals for the next three years at Kokanee Crankworx and earns him precious points on the Freeride Mountain Bike World Tour.
The level of difficulty of the Joyride course, which was designed by a number of the athletes themselves, and the high level of talent that competed earned the event a 'Diamond' rating, one of only two worldwide, on the FMB circuit. Diamond stops are the highest rating on the tour and garner the heaviest weighting of overall points. With this win, current FMB World Tour leader, Brandon Semenuk, extends his lead with only two events remaining in the season.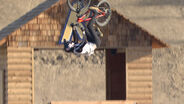 7:21
Kokanee Crankworx 2011 Red Bull Joyride - Brandon Semenuk
30.307 Views
Head Judge Colin Duncan was left awestruck by the course and level of riding in today's event, "That was the best, most dialed in course we have ever seen here in Whistler. I can't believe not only the level of difficulty these riders are pushing, but how close all of them are. When we are on that judge's panel we have to look for the little mistakes and pick apart the runs down to the littlest pedal slips and tiny body movements that aren't consistent with the flow of the trick. But when it came to Semenuk today, I wouldn't so much call it a Cinderella Story as I would call it a Wayne Gretzky story, someone who has been bred for this sport and comes out and shows us what being bred for this sport means."
Red Bull Joyride 2011 Finals Results:
1 - Brandon Semenuk - CAN - Score 95.40
2 - Cam Zink - USA - Score 94.00
3 - Anthony Messere - CAN - Score 92.80
4 - Greg Watts - USA - Score 87.60
5 - Geoff Gulevich - CAN - Score 84.40
6 - Cam McCaul - USA - Score 84.00
7 - Tyler McCaul - USA - Score 78.60
8 - Kurt Sorge - CAN - Score 76.60
9 - Jamie Goldman - USA - Score 70.80
10 - Darren Berrecloth - CAN - Score 68.20
11 - Andreu Lacondeguy - ESP - Score 67.00
12 - Mike Montgomery - USA - Score 63.20
13 - Sam Dueck - CAN - Score 58.60
14 - Yannick Graneiri - FRA - Score 44.20
15 - Kelly McGarry - NZL - Score 26.00
16 - Sam Pilgrim - GBR - Score 10.60
Channels: Kokanee Crankworx 2011