Inside Nate Adams' Honda CRF450R
We've shown you quite a few factory racing machines, so this time we decided to give you a closer look at a professional FMX rider's bike. Once a long-time Honda rider, Nate Adams made the switch to Yamaha for many years, riding the trusted YZ250 two-stroke. With four-strokes slowly beginning to take over the motocross industry, though, many top freestyle riders have been making the switch to the bigger more powerful 450cc four-strokes. Adams recently got his new ride, a Honda CRF450R, dialed in and is quickly learning all his tricks aboard the bike.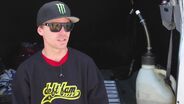 3:56
3.169 Views
Check out a video with Nate and find out his reasoning behind the big switch.
Channels: exfmx