Five reasons FISE is taking over the action sports world
5 days, 5 major sports and 500,000 people – here's 5 reasons to watch FISE World Montpellier.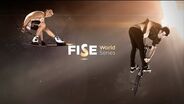 3:49
FISE World Series 2014 - Teaser
1.016 Views
If you haven't already been swept up in the wave of excitement that precedes Europe's biggest extreme sports festival every year, it's not too late.
FISE World Montpellier is just under a week away and the five-day action sports extravaganza is set to be the biggest in its long history.
New sports have been added, big names are set to attend and a army of spectators, consisting of close to half a million people, is expected in the south of France. You've been missing out, if FISE hasn't been on your radar recently, and here are five reasons why it most certainly should be.
FISE World Montpellier will be streamed live on Extreme.com starting at 1:30pm CET on Wednesday 28th May - click here to find out more.
1. The History
FISE, The International Festival of Extreme Sports, has been around for almost two decades. 2014 will be FISE World Montpellier's 18th year and it has been spreading extreme sports love around Europe for just two years less than the X Games.
They have added new sports over the years, expanded to different countries and set up a series tour, which travels all over France and elsewhere in Europe. With no signs of slowing down FISE should continue to grow – don't get left behind!
2. The Athletes
One of the unique thing about FISE is the list of athletes. It is just so long! The festival does not charge entry fees and as a result around 1,500 competitors show up.
Some big names to look out for will be Mark Webb, the BMX legend who is set to return to competition after an ACL injury, and MTB wonder-kid Anthony Messere. But another aspect of FISE that stands out is that not only does it attract seasoned pros, it is also open to amateurs and up-and-comers, encouraging stars of the future to compete on the big stage.
3. The Crowds
If the athletes don't have to pay, then neither do the spectators. The crowds that line the river Lez and the streets of Montpellier over the five days in May are absolutely huge and make the competitions even more of an impressive spectacle.
Around 500,000 people are expected at FISE this year and if this article doesn't inspire you to pack a bag and get out there yourself then don't worry – you will definitely get a taste of the explosive atmosphere on the extensive live streams.
4. The Sports
FISE may have popular mainstream sports like BMX, skateboarding and freeride mountain biking as headline events but it is the more obscure competitions that make the festival so intriguing.
The other two major sports that have been on show for most of FISE's lifetime are inline and wakeboard. When else do you get to see the world's best in those sports competing on the international stage? If that's not enough there are also slack lining and scooter events as well as a freestyle motocross show, which has been added this year.
5. The World Tour
While the X Games recently announced they were cancelling their global events, removing the festival from Munich, Tignes, Barcelona, Asia and Brazil, FISE was planning the opposite.
If you enjoy FISE World Montpellier then there is plenty more where that came from. In 2014 FISE will cross boarders for the first time by hosting events in Andorra, Malaysia and China with the aim of crowning overall FISE World Champions.
For more information on what events are showing live on Extreme.com click here, and then don't forget to return on Wednesday 28th May for the opening competition LIVE here.
Channels: BMX, FMX, Freeski, Mountain Bike, Outdoor, Skateboard, Snowboard, Wakeboard