Dew Tour: Five of the best ever Dew Cup winners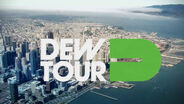 0:30
Dew Tour 2013 - Top 25 Moments
641 Views
And to mark the occasion we've come up with a list of our own to remind you who some of the major players on the Dew Tour circuit are, and what they have achieved.
With 21 Dew Cups between them these five legends of the extreme sports world are sure to feature in the top 25 - tune in on Saturday to find out who comes out on top.
1. Jamie Bestwick – BMX Vert
There are few athletes in any sport who dominate like Jamie Bestwick does in BMX vert. The British rider won an unbelievable ninth-straight Dew Cup in 2013. In fact, Bestwick has won every single Dew Cup since the event began in 2005. He also has eight X Games medals and will be looking to add even more to his trophy cabinet in 2014.
2. Shaun White – Skate/Snowboard
It's impossible to talk about board sports without mentioning the flying tomato, Shaun White. He seems to have left his mark on every important snowboard and skate competition there is – and the Dew Tour is no exception. The American has claimed three Dew Cups in his time, but his famous versatility in the competition is what's most impressive. In 2009, he joined BMX rider Ryan Guettler as one of the only people to win two Dew Cups in one season, when he celebrated victory in both slopestyle and superpipe. White is also the only person to win Cups at both Winter and Summer Dew Tours, having won skate vert in 2007 aswell – a record unlikely to be beaten.
3. Pierre-Luc Gagnon – Skate Vert
The man from Montreal has never been outside the top three when it comes to skateboard vert at the Dew Tour. He has also lifted the Dew Cup four times, winning three in a row between 2010 and 2012. The only men to really trouble him during his Dew Tour career so far are Shaun White and the next skateboarding legend on our list....
4. Bucky Lasek – Skate Vert
One half of probably the greatest rivalry in the Dew Tour, Bucky Lasek has battled Pierre-Luc Gagnon for skate vert dominance for years. The American won his first two Dew Cups in 2005 and 2006 before PLG took over and since then they have shared podiums on a regular basis. The closest they came was in 2005 when Lasek edged out the Canadian by just two points. PLG last won in 2012 but gave up the title to Lasek the following year. They've got four each now, so there is all to play for in 2014.
5. Bobby Brown - Freeski Slopestyle
Since the Winter Dew Tour debuted in 2008 Bobby Brown has been almost ever present. He finished each of the first four seasons on the podium and won the Dew Cup in 2011. The American is constantly progressing the sport in both slopestyle and big air and he proved it in incredible fashion at the 2010 X Games when he became the only freeskier in the event's history to win two events in one year (slopestyle and big air of course) by landing the first ever switch double misty 1440. Still going strong the 22-year-old is set to be a major contentor at the Dew Tour again in 2014.
Catch Dew Tour 2013 - Top 25 Moments, only on the Extreme Sports Channel (Sky 419, Virgin 527), on Saturday 3rd May @ 6pm.
Channels: Extreme.com, BMX, FMX, Freeski, Skateboard, Snowboard, Surf