Simple Session 13 LIVE on extreme.com and XBOX
Returning for another year of celebrating everything that is amazing about skateboarding and BMX, Simple Session 13 will be live right here on extreme.com and for the first time ever, on the XBOX.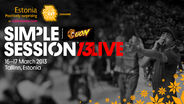 Simple Session 13 LIVE Finals Day Full Replay
359.918 Views
Our full HD coverage starts on Saturday 16th at 10:30am CET with skateboard qualification and runs all weekend until the climax that is the BMX finals on the Sunday evening. The full schedule is below.
Being one of the most progressive and influential action sports events in the World, the contest will be hosting around 200 top athletes from 30 countries across the world at Saku Arena, Tallinn, with an impressive line-up of the most established riders in the business. Don't believe us, check out the skate finals and bmx finals from last year.
Continuing the desire for progression, this year will be the first year that XBOX users will be able to watch and interact during the live stream of the BMX finals, enjoying all the action on the big screen whilst voting for the XBOX Best Trick wnner. If you've got an XBOX, check out how you can interact right here.
Make sure you join us for all the action this weekend on extreme.com, it's going to be one to remember.
SATURDAY 16/03 QUALIFICATION
11:00 – 14:00 Skate qualifications

14:00 – 14:30 BMX warm-up (heat I) 

14:30 – 16:45 BMX qualifications (heat I)

16:45 – 17:15 BMX warm-up (heat II)

17:15 – 19:30 BMX qualifications (heat II)

19:30 – 20:00 BMX warm-up (heat III)

20:00 – 22:00 BMX qualifications (heat III)
SUNDAY 17/03 FINALS

10:00 – 11:30 Skate semi-finals warm-up

11:00 Doors open for spectators 

11:30 – 13:30 Skate semi-finals

13:30 – 14:00 Skate finals warm-up

14:00 – 15:30 Skate finals

15:30 – 16:00 Red Bull Skate Best Trick Contest
16:00 – 16:20 Failure BMX Street Best Trick contest warm-up and skateboarding prize ceremony

16:20 – 16:50 Failure BMX Street Best Trick contest 

16:50 – 17:20 Sister Session Girls BMX warm-up 

17:20 – 18:00 Sister Session Girls BMX contest

18:00 – 19:00 BMX finals warm-up

19:00 – 21:15 BMX finals

21:30 Prize ceremony
Channels: Simple Session 2013, BMX, Skateboard