Simple Session 13 - Course Design Revealed
The Simple Session course has been unveiled for 2013 and it looks like a belter!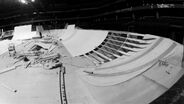 2:00
1.866 Views
The course has once again been designed by the world renowned park designer Nate Wessel, who has been working with Simple Session since 2007.
Simple Session co-director Risto Kalmre is convinced, that the park is going to be a treat: "We are glad to be working with Nate Wessel again, he's a true magician when it comes to skatepark design. Once again he has come up with an incredible concept, and with the list of prestigious riders confirmed for the contest, it's going to be historic.
There are so many rad features and details on this course – it's probably the biggest and most detailed skatepark we have built for the event. It contains a full bowl, tons of hips, corners and walls for the park guys, a huge bubba with rails, and tons of different ledges and wedges for the street riders and skaters. Shadow coffin, which we intoduced last year, is back with new geometry. Not to mention several totally unique features like rail to wallride and our thunder bold styled obstacle, called "RIDE THE LIGHTING"!
There's endless amount of lines hidden in there and I can't wait to see the riders and skaters shredding it." Nate Wessel himself is also stoked: "I think it's an awesome concept and will make a ton of crazy tricks happen on it. Every year I look forward to Simple Session and for a long time Simple Session has been my favourite project. I really look forward to all of the creative things the riders will do on some of the new features. Super stoked for this year – \m/_ metal _\m/ – Ride the Lightning!"
Simple Session 13 will take place 16-17th of March 2013 and will be hosting around 200 top athletes from around the world at Saku Arena, including an impressive line-up of the most established riders in the business as well as new talents in the disciplines of BMX and skateboarding street/park.
Simple Session has been around for 13 years and has worked its way up to become one of the World's premier BMX and skateboarding contest, bringing together the World's greatest riders and skaters for a weekend of incredible action; a true celebration of everything that is amazing about BMX and skateboarding.
Channels: Simple Session 2013, BMX, Skateboard, Simple Session