Brett Banasiewicz - INJURY UPDATE
Almost a month ago now Brett Banaseiwicz was involved in a horrific crash on his BMX warming up for a Vans BMX jam. Brett was put in a medically induced coma to help reduce the swelling on his brain and has been fighting ever since. We are pleased to say his recovering better than anyone could have hoped for and we wish him all the best!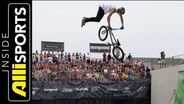 6:38
Wishing Brett "Mad Dog" Banaseiwicz A Speedy Recovery
9.882 Views
Trish Bare Grounds, owner of Bare Essential Sports Medicine, a sport medical insurance company for many athletes. She has been with Brett to see how he has been getting on. Trish posted an update on Brett's Facebook Page.
"Update on Brett Banasiewicz @imaddog9: Well Brett actually slept for over 9 hours last night and when PT came in this morning he still wanted to sleep. ;) But he did some work then took a catnap before waking up and kicking his feet off the bed to say he wanted to sit up and do his own work, and so we did. Brett is absolutely amazing me with his determination to be ahead of schedule and ahead of what PT thinks he is capable of doing. He worked so hard he had to take another nap. Then asked if he was ready to stretch and do his exercises I got 2 thumbs up! Brett is obviously starting to feel more like himself now that he is off of all sedatives, painkillers, antibiotics, steroids, blood pressure medication, fever medication, insulin, and many other medications...he hates even taking Tylenol so he is feeling better getting all of that out of his system. Brett has not had night sweats or a fever in the past 4 nights, indicating the hypothalamus in his brain that controls body temperature among other things is finally healing and the swelling is reduced. And his WBC Count has remained in the normal range for the past 3 days! Whooo hooo we are now on the home stretch to get out of here and onto the more productive rehab facility. Medjet is ready to go just have to get the final word. His parents Lisa Banasiewicz & Bill Banasiewicz are some the strongest parents I have ever met when an accident like this has happened. Bill being here since the day he crashed & Lisa having been here but knowing Brett would want someone he trusts to run his skate park, has been home doing just that! Please continue to keep Brett & his family in your thoughts and prayers!"
______________________________________________________________________________________________
August 23rd
Brett Banasiewicz is in a critical condition following a nasty crash yesterday at the Vans LXVI Invitational in Virginia Beach, Virginia.
Jerry Badders, Vans BMX team manager, recently posted the following update on Twitter (@VansJerry):
"Maddog is not in a coma. He's doing better. Took neck brace off, no fractures to face. he is stable. Cleaning things up. Keep it up Maddog."
Ryan Nyquist later tweeted (@RyanNyquist):
Latest on Brett @iMaddog9 He woke up, no broken bones but has bleeding & swelling in brain. Induced coma and monitoring. Get well soon buddy!"
We'll keep you posted as updates are given, but for now everyone at Extreme wishes Brett a speedy recovery.
UPDATE
News just in from @catfishcatfish The message below is from Lisa Banasiewicz, Brett's mother. it's looking good and we wish him all the best.
Channels: BMX