UCI BMX Supercross - Strombergs and Post win in Papendal
Olympic Champion and former World Champion Maris Strombergs grabbed the gold at the UCI BMX Supercross series in Papendal the Netherlands. Remarkable was the fact that the eight riders in the men's main final were all from different countries showing that the level of BMX Racing is rising all over the world.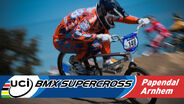 4:25:31
UCI BMX Supercross World Cup 2012 Papendal, the Netherlands
20.555 Views
The rider from Latvia, that some call 'the Machine', has a clear focus in 2012. Today Strombergs proved he is getting ready for London 2012, only stopping in Birmingham for the World Championships on the way. Sam Willoughby finished second in another photo finish. The Australian rider crashed hard during the time trials on 12 May. He pulled of a small miracle by being on the bike. Let alone racing and finishing second in one of the toughest finals ever on the longest track on the Supercross circuit.
American David Herman finished third. His fellow countryman Connor Fields did not make the finals. Finishing last in the ¼ finals eliminated Fields. The Vegas kid that has won the three previous Supercross World Cup series tried everything but could not find a passing lane anywhere.
Maris Strombergs was happy with the win, but has something else on his mind, "I am not focusing on a Supercross tittle this year. It is no secret that it is all about the Olympics and the Worlds tis year. Olympics is a big thing in BMX Me being a defending Olympic champion puts a lot of pressure on me and my expectations are always high. But I get older and wiser and I am confident. So I want to be a 100% by the time the Olympics come.""
Alise Post (USA) was super excited with her first win after coming back from an unfortunate crash last July 2011. Post was the only female rider jumping the triple at the end of the first straight and that gave her the lead she kept until the Papendal finish line. With that magic jump Post held off Caroline Buchanan who is in excellent form at the moment. Buchanan who had won the time trials finished in second place and Laetitia Le Corguille (FRA) grabbed third place.
Alise Post stepped of the podium soaked in Champagne and said, "It is huge A big win for me. I got hurt last year and I missed Olympic points. It is huge for me going in the worlds, big confidence boost. My first straight in the final was not great. I needed something. I jumped the triple in practice and had not hit it since. It was kind of a split decision moment. I knew I had to do it to get me out in front and I went for it. After that I tried to focus on the moment. Not to make any mistakes. Caroline and the other girls are great riders. I just wanted to cross the line first and I did."
Results Men: 1) Strombergs M (LAT) 38.627 2) Willoughby S (AUS) +0.016 3) Herman D (USA) +0.998 4) Ramirez Yepez CA (COL) +1.880 5) Willers M (NZL) +14.269 6) Van Gendt T (NED) +1:09.274 7) Caleyron Q (FRA) +2:09.999 8) Nyhaug T (CAN) DNF
Results Women 1) Post A (USA) 38.670 2) Buchanan C (AUS) +0.264 3) le Corguille L (FRA) +0.705 4) Geving A (USA) +1.294 5) Pottier M (FRA) +1.864 6) Crain B (USA) +3.059 7) Hladikova A (CZE) +3.534 8) Smulders L (NED) +3.798 8
Channels: UCI BMX Supercross World Cup 2012 - Papendal, The Netherlands, BMX