Simple Session 12 dates announced
The annual Simple Session BMX and skateboarding contest, one of Europe's most anticipated action sports events, will this year take place on 31st of March and 1st of April in Tallinn, Estonia. In addition to the slightly moved springtime dates, the Simple Session event series is revamping it's brand and setting sights on a more international future.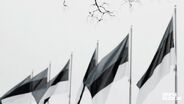 2:09
Simple Session 12 Teaser Trailer
1.786 Views
For years, Simple Session has been the highlight of Europe's BMX and skateboarding wintertime calendar, taking place in the beginning of February. This year, the contest has moved to early springtime – the organisers hope that the date shift will be welcomed as a great chance to experience the amazing city of Tallinn in a bit sunnier light and warmer weather.
Whereas there will be no big changes in the overall concept of the event, the contest has adjusted it's name from Simpel Session to Simple Session.
"Simple Session has experienced an escalating growth in popularity and coverage over the years, reaching a global audience and the level and quality of a top action sports contest. Also, we have been organising summer events in Helsinki, Finland for two years now and are weighing the possibility of setting foot in other countries as well. We see the little changes we are about to make in our brand as a positive surge forward and a manifestation of a more independent attitude towards the future of the Simple Session series. As Simpel was a trade mark of a former sponsor, the name change will allow us to keep on doing the contests fully under our own brand", said the co-director Mario Kalmre.
Simple Session will once again be hosting around 200 top athletes from around the world, including an impressive line-up of the most established riders in the business as well as new talents in the diciplines of BMX street/park and skateboarding. Simple Session has been around for 12 years and has worked its way up to become one of the biggest and best contests in the world of action sports. Simple Session is a celebration of everything that is amazing about BMX and skateboarding lifestyle.
Check out all the highlights from last year right here - Simpel Session 11 - and the replay below.
Channels: BMX, Skateboard