GoPro Launches HD HERO2
GoPro today announced the release of its new HD HERO2® camera. Twice as powerful as GoPro's original HD HERO camera, the HD HERO2 enables consumers and professionals to capture and broadcast their lives most exciting moments in professional quality 1080p HD video and 11 megapixel photos (the new HD HERO2 is now available exclusively in the UK and Ireland from Madison).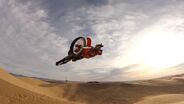 5:12
The HD HERO2: 2x as Powerful in Every Way.
13.183 Views
"The new GoPro HD2 moves the action camera market up to a whole new level and puts even more clear blue sea between GoPro and the rest of the pack." – Dominic Langan, CEO, Madison.
Arguably the most versatile camera in the world thanks to its innovative mounting sys-tem, renowned durability and small form factor, the HD HERO2 surpasses its predecessor with several technology upgrades.
The HD HERO2's new processor delivers twice the processing power, taking full advantage of a new high-performance 11 megapixel sensor that delivers more than twice the image detail along with professional low-light performance.
A totally redesigned wide-angle lens was required to take full advantage of the HD HERO2's increased image-processing, resulting in a lens that's twice as sharp as the previous model. And with the arrival of GoPro's new Wi-Fi BacPac™ and Wi-Fi Remote products slated for release this winter, the HD HERO2 will enable video remote control via the Wi-Fi Remote, smartphones and devices, tablets and computer, as well as enabling live GoPro video broadcast from anywhere there is Wi-Fi or a mobile hotspot.
Famous for its globally best-selling HD HERO line of wearable and gear mountable cameras, Go-Pro spared no expense developing the HD HERO2. "GoPro created a new category of camera with the HD HERO back in 2009, and it's gone on to become one of the best-selling video cameras in the world," says Nicholas Woodman, CEO and found of GoPro. "With these big shoes to fill, we invested massively in engineering the HD HERO2 to be one of the greatest, most versatile cameras of all time. We think we've achieved our goal and we're very excited to see the content our customers around the world capture and share with their powerful new GoPros."
Upgraded Professional Photo Quality and Features
The HD HERO2's photo capture performance has also been significantly upgraded. In addition to much improved low light performance, the HD HERO2 can capture up to ten 11 megapixel photos in a ten second burst mode, as well as automatic time-lapse photos with quick .5 second timing between photos. This dramatically increases the success-rate when attempting to capture maga-zine cover quality photos during fast action sports and activities.
List of HD HERO2 Feature Enhancements:
• Professional 11MP Sensor • 2x Faster Image Processor • 2X Sharper Glass Lens • Professional Low Light Performance • Full 170º, Medium 127º, Narrow 90º FOV in 1080p and 720p Video • 120 fps WVGA, 60 fps 720p, 48 fps 960p, 30 fps 1080p Video • Full 170º and Medium 127º FOV Photos • 10 11MP Photos Per Second Burst • 1 11MP Photo Every 0.5 Sec Time-lapse Mode • 3.5mm External Stereo Microphone Input • Simple Language-based User Interface • Compatible with Wi-Fi BacPac™ and Wi-Fi Remote™ - Long Range Remote Control of up to 50 GoPro Cameras per Wifi Remote - Wi-Fi Video/Photo Preview, Playback and Control via GoPro App - Live Streaming Video and Photos to the Web
Channels: BMX, FMX, Freeski, Mountain Bike, Snowboard, Surf, Wakeboard