New events coming to X Games Austin 2015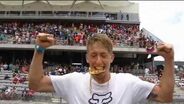 2:45
X Games Austin 2014: Highlights
633 Views
Chase Hawk reveals 2015 dates and welcomes unique new disciplines.
X Games will be adding two new events to the lineup for its second trip to Austin in 2015 – Moto X QuarterPipe and Big Air Doubles.
The freestyle motocross event will feature riders attempting one trick off a single quarterpipe, while Big Air Doubles combines skateboard and BMX disciplines in a team competition over the giant kicker.
BMX Park gold medalist and Austin local Chase Hawk revealed the plans on Friday as well as the dates that action sports will take over Austin's Circuit of the Americas – June 4th – 7th.
And, after a hugely successful first X Games in Texas, Hawk is delighted to once again be competing in front of his home fans.
"I'm looking forward to the opportunity of defending my gold medal at X Games Austin next year, and am excited to compete in front of my hometown crowd," he said.
There was some controversy ahead of last year's X Games when it was revealed that the newest sport to enter the lineup was video game Call of Duty.
But X Games Austin 2014 was a huge success and the world's premier action sports event looks set to stay in the Lone Star State for some time.
Last summer fans saw the event reach a whole new level as organisers created a complete festival experience with music, gaming and lifestyle elements alongside the breathtaking sports.
And Jason Dial, president and CEO of Circuit of The Americas, insists that two new disciplines won't be the only improvements for visiting fans.
"We're looking forward to building on the momentum of the 2014 X Games Austin event," he said.
"In 2015, you'll see us amplify the festival aspect even more – combining Austin's unique environment and culture with the excitement of the X Games."
Tickets for X Games Austin 2015 go on sale January 23rd and will be available on Ticketmaster.com. To register for the presale list click here.
What do you think of the two new events? Is Austin the right place for X Games to settle down. Let us know on Facebook and Twitter or in the comments box below!
Channels: Auto Sports, BMX, FMX, Freeski, MX, Outdoor, Skateboard, Snowboard, Surf, Wakeboard